Breakfast Sandwiches on Cheddar Chive Biscuits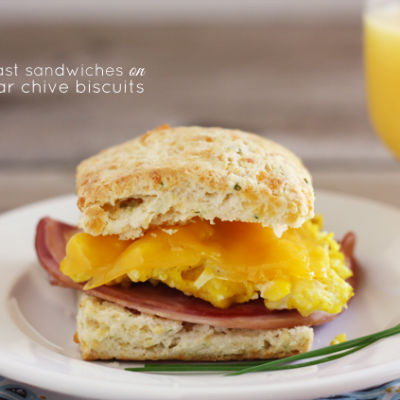 2 cups flour
2½ teaspoons baking powder
½ teaspoon salt
1 cup shredded cheddar cheese
2 Tablespoons fresh snipped chives
6 Tablespoon unsalted butter, cold, cut into small pieces
¾ cup buttermilk
16 slices thin-sliced deli ham
10 eggs
milk
salt
pepper
sliced cheddar cheese
To make the biscuits, preheat the oven to 425°F and line a baking sheet with parchment paper. In the bowl of a food processor, combine flour, baking powder, and salt, and pulse a few times to combine. Add cheddar and chives, and process again briefly just to combine. Add butter pieces and pulse again until mixture is crumbly. Add buttermilk and pulse just until mixture comes together. On a well-floured surface, pat dough into a long rectangle about ¾" thick. Cut the rectangle into 8 equal squares and place the squares on the baking sheet. Baking for about 18 minutes until golden. Remove from oven and allow to cool.
While the biscuits are baking and cooling, heat the ham slices in batches in a large nonstick skillet. Set the ham aside on a large plate. In a medium bowl, combine eggs with a splash of milk and a pinch of salt and pepper. Scramble the eggs and cook them slowly until firm.
Split the biscuits in half, place two slices of ham on each bottom biscuit (folded in half if necessary), and top with eggs, sliced cheddar, and biscuit tops. Eat warm. Makes 8 sandwiches.
Recipe by
Lulu the Baker
at https://luluthebaker.com/breakfast-sandwiches-on-cheddar-chive-biscuits/