Flan Cake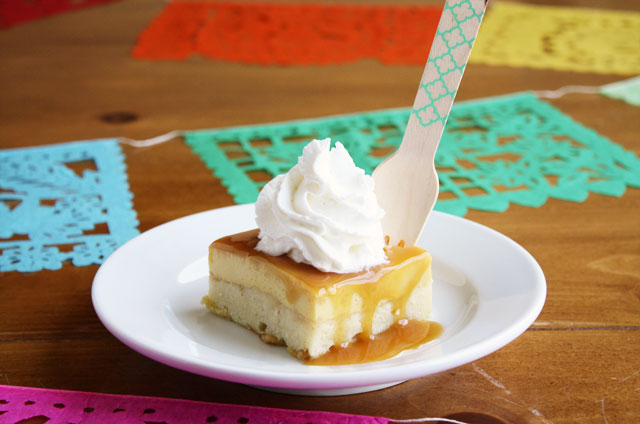 1 cup caramel sauce (store-bought is fine)
10 Tablespoons butter, plus more for greasing the pan
1 cup sugar
1 egg
2 cups all-purpose flour, plus more for dusting the pan
2 Tablespoons cornstarch
¾ teaspoon baking powder
¾ teaspoon baking soda
1¼ cups whole milk
1 12-oz can evaporated milk
1 14-oz can sweetened condensed milk
4 eggs
1 teaspoon vanilla
sweetened whipped cream for serving
Preheat the oven to 350°F and put a kettle of water on to boil. Also, find a big roasting pan (big enough for a 9x13" pan to sit inside of) and set it aside.
Butter a 9x13" pan generously and dust it with flour. Turn the pan upside-down over the kitchen sink and shake out the excess flour.
Pour caramel sauce evenly over the bottom of the pan. If the caramel sauce doesn't want to spread itself out, gently tip the pan back and forth until the caramel covers the bottom of the entire pan evenly; set pan aside.
Using a stand mixer or hand mixer, cream softened butter and sugar until fluffy. Add egg, and beat, scraping down the sides of the bowl as necessary. In a medium bowl, combine flour, corn starch, baking powder, and baking soda. Add ⅓ of the flour mixture to the butter and sugar mixture, beating until just combined. Add ½ of the milk, and beat until combined. Continue adding flour mixture and milk until all ingredients have been added. Turn the mixer up to medium speed and beat 30 seconds. Carefully spread the cake batter over the caramel sauce in the pan.
In a blender, combine all flan ingredients until smooth. Pour the liquid very gently and evenly over the cake batter.
Put your big roasting pan in the oven, set the 9x13" pan inside it, and pour enough boiling water into the roasting pan to come about half-way up the sides of the cake pan. Be careful not to pour hot water into the cake pan!
Bake for about 55 minutes, until the cake has begun to pull away from the sides of the pan. A knife inserted in the center should come out clean. It's OK if the knife comes out wet, as long as the liquid is completely clear.
Allow the flan cake to cool in it's pan for about 1 hour, then run a knife all the way around the edges. Take a rimmed baking sheet, place it face down on top of the cake pan, grip both very tightly, and flip the whole contraption over. Set it on the counter and gently remove the cake pan. You should have cake on the bottom, flan next, and caramel sauce on top! Allow it to finish cooling before serving. You probably don't want to serve it to guests straight off the cookie sheet, so you might want to plate individual pieces first. And you'll definitely want to top each piece with lots of sweetened whipped cream! If there are any pieces leftover, cover them tightly with plastic wrap and refrigerate.