Crumb Topped Apple Pie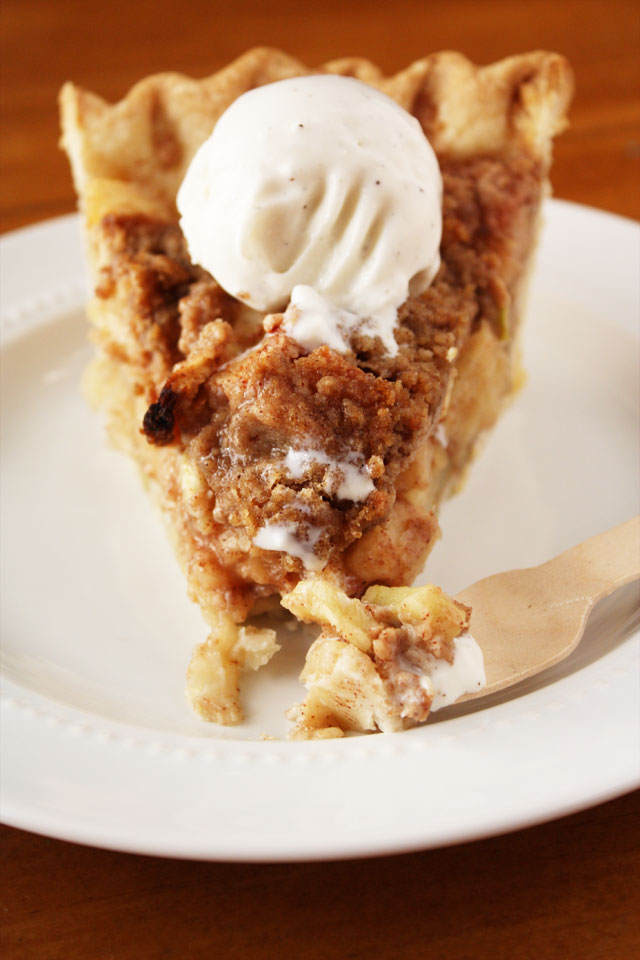 ½ cup flour
⅓ cup packed brown sugar
1 teaspoon cinnamon
¼ teaspoon salt
5 Tablespoons cold butter, cut into chunks
1⅓ cups flour
⅛ teaspoon salt
½ cup (1 stick) cold butter, cut into chunks
4-5 Tablespoons ice water
7 large apples, peeled, cored, and diced
1 Tablespoon fresh lemon juice
⅓ cup granulated sugar
2 Tablespoons cornstarch
1 teaspoon cinnamon
½ teaspoon nutmeg
¼ teaspoon ground cloves
pinch of salt
Preheat the oven to 375°F.
To make the topping, combine flour, brown sugar, cinnamon, and salt in a medium bowl. Add butter and use a pastry blender to cut the butter into the flour mixture until it is crumbly. Cover and refrigerate.
To make the crust, pulse flour and salt in the bowl of a food processor until combined. Add butter chunks and pulse just until butter is in pea-sized clumps. Slowly add cold water and run food processor just until dough comes together in one mass. Place dough on a well-floured surface and roll into a large  circle. Gently lift dough and place in a 9-inch pie plate, carefully pressing dough into the bottom and up the sides of the pan. Fold any dough the hangs over the edge under itself and crimp it decoratively or press it with a fork.
To make the filling, combine all ingredients in a large bowl and toss to coat. Spoon filling into prepared crust, top with crumb topping, and place on a foil-lined baking sheet. Bake for 50-60 minutes until the whole pie is golden. Remove pie from oven and allow to cool 10-15 minutes before slicing. Serve with vanilla ice cream!