Chicken Caesar Salad Pizza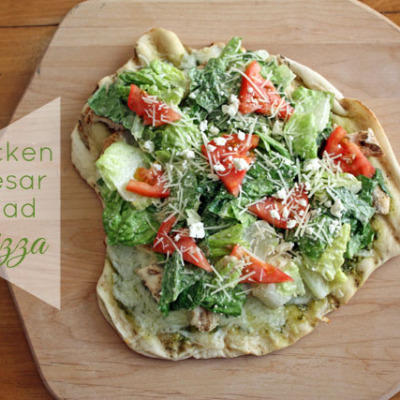 1 cup warm water
1 Tablespoon yeast
1 Tablespoon sugar
1 teaspoon salt
2 Tablespoons olive oil
3 cups flour
olive oil
1 Tablespoon minced garlic
1½-2 pounds cooked, chopped chicken
3 Tablespoons pesto
4 cups shredded mozzarella cheese
2 store-bought Caesar Salad kits with dressing
1 large tomato, sliced
shredded parmesan cheese
crumbled feta
To make the crust, add yeast and sugar to warm water and allow to proof for 5 minutes. While the yeast is proofing, combine the salt, olive oil, and flour in the bowl of a stand mixer with the dough hook attached. When your yeast mixture is nice and bubbly, add it to the bowl of the stand mixer, turn it on, and let it go for about 5 minutes. It should mix the dough and then start to knead it. The dough should be soft but not sticky; add more flour if necessary. Remove the dough from the bowl and form it into a nice ball. Pour a little more olive oil into the bottom of the bowl and put the dough back in, turning it once to coat with olive oil. Cover the bowl with plastic wrap, set it in a warm spot, and allow to rise for 30 minutes.
When the dough has risen, punch it down, remove it from the bowl, and place it on a clean, well-floured counter. At this point, I always divide the dough into 3 equal portions so that my pizzas are a manageable size. Roll each portion out to a thickness of ⅛-1/4".
Grilling Instructions: With your grill set to medium heat, brush olive oil on one side of each prepared pizza crust, and place crusts oil-side-down on the grill. Cook--with the cover up--until the bottom of the crust has nice grill marks on it and it is stiff enough to be flipped. Brush more olive oil on the top of the crust and flip it over. Sprinkle minced garlic and chicken evenly over crusts, drizzle with pesto, and top with shredded mozzarella. Close cover and cook until cheese is completely melted. Place cooked pizzas on a large cutting board or cookie sheet and allow to cool slightly.
Oven instructions: Preheat your oven to 500°F. Sprinkle corn meal evenly over as many cookie sheets as you need to accommodate all of your crusts, and place crusts on cookie sheets. I'm assuming that if you have a pizza stone and a pizza paddle, you know how to use them, so I'm not going to get into that methodology! Brush olive oil on the top of each crust. Sprinkle minced garlic and chicken evenly over crusts, drizzle with pesto, and top with shredded mozzarella. Bake until crusts are golden and cheese is melted, 5- 10 minutes. Remove from oven and set aside to cool.
OK, now that we're all back on the same page, combine lettuce and dressing from the Caesar Salad kit in a large bowl and toss to coat. When pizzas are cool enough to eat without burning the roof of your mouth, divide salad evenly among your pizzas. Top with tomato slices, shredded parmesan, and feta. Slice and serve! Serves 4.
*You'll divide these amounts evenly among your crusts, whether you divided your dough into 2, 3, or even 4 pizzas.
Recipe by
Lulu the Baker
at https://luluthebaker.com/chicken-caesar-salad-pizza/