Mini Pumpkin Spice Scones with Apple Cider Glaze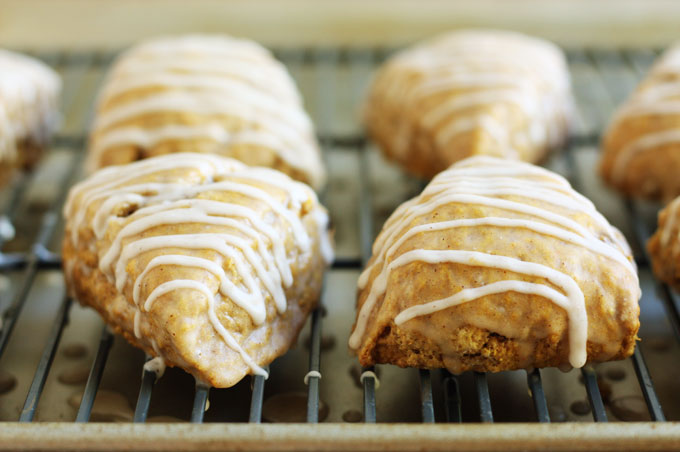 3 Tablespoons whole milk
1 teaspoon apple cider vinegar
2 cups flour
½ cup brown sugar
1½ teaspoons baking powder
½ teaspoon baking soda
2 teaspoons pumpkin pie spice
½ teaspoon salt
6 Tablespoons cold butter, cut into chunks
1 egg
½ cup canned pumpkin puree
1 teaspoon vanilla
2 Tablespoons butter, melted
1 cup powdered sugar
a pinch of salt
1 teaspoon vanilla
2 Tablespoons apple cider
a pinch of cinnamon
To make the scones, preheat the oven to 400°F and line a cookie sheet with parchment paper or a silicone baking mat. Combine the whole milk and apple cider vinegar in a small bowl, and set aside.
In a large bowl, combine flour, brown sugar, baking powder, baking soda, pumpkin pie spice, and salt. Add butter chunks and cut in with a pastry blender, or use your fingers to work the butter gently into the mixture.
To the milk mixture, add egg, pumpkin puree, and vanilla, whisking to combine. Add the wet ingredients to the dry ingredients, and mix gently with a spatula or wooden spoon until mostly combined.
Dump the dough out onto a lightly floured work surface, and knead gently until all of the dry ingredients are worked into the dough. Divide the dough in half, and form each half into a circle about 1" thick. Cut each circle into 6 wedges, and place wedges on the prepared baking sheet.
Bake at 400°F for 15 minutes. Allow to cool before glazing.
To make the glaze, combine melted butter and powdered sugar in a small bowl, whisking until a paste forms. Add salt, vanilla, and apple cider, and whisk until smooth. When scones are cool, dip the top of each one in glaze, then set on a cooling rack over a baking sheet until the glaze sets, about 15 minutes.
Recipe by
Lulu the Baker
at https://luluthebaker.com/mini-pumpkin-spice-scones-apple-cider-glaze/