PEANUT BUTTER CHOCOLATE LAYER CAKE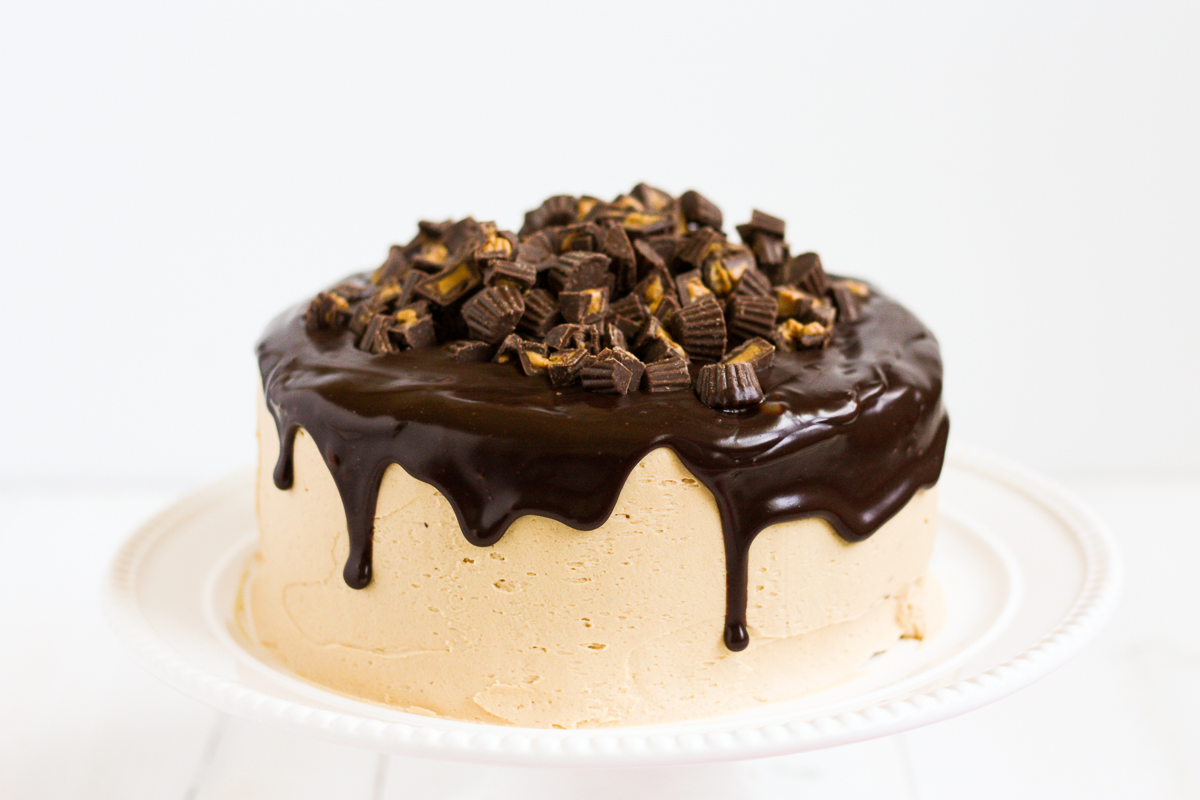 1¾ cups flour
2 cups sugar
¾ cups cocoa powder
2 teaspoons baking soda
1 teaspoon baking powder
1 teaspoon kosher salt
1 cup buttermilk
½ cup oil
2 large eggs
1 teaspoon vanilla extract
1 cup hot, strong coffee
1 cup butter, softened
1 cup creamy peanut butter
1 teaspoon vanilla extract
a pinch of salt
1 lb powdered sugar
5 tablespoons heavy cream
8 oz chopped milk chocolate or high-quality milk chocolate chips
⅔ cup heavy cream
chopped mini peanut butter cups for garnishing
Preheat oven to 350°F.
Butter two 8″ cake pans and dust with flour.
Combine all dry ingredients in the bowl of a stand mixer and mix until combined. In a small bowl, combine buttermilk, oil, eggs, and vanilla. Pour buttermilk mixture into dry ingredients and beat just until smooth. Add coffee and mix just until incorporated.
Divide batter, which will be incredibly runny, evenly between the two pans. Bake for 35 to 40 minutes until a toothpick stuck in the center of each cake comes out clean. Remove from oven and allow to cool in the pans for 10-15 minutes before turning out onto a wire rack to cool completely.
While the cakes are cooling, prepare the frosting. Beat the butter, peanut butter, vanilla, and salt until smooth. Beat in powdered sugar and heavy cream alternately until everything is mixed in, then turn the mixer up to high and beat the frosting for 2-3 minutes until it is very smooth and fluffy.
Prepare the ganache by combining the chocolate and heavy cream in a large microwave-safe bowl. Microwave for 30 seconds, then stir. Repeat until the ganache is completely smooth and glossy.
To assemble the cake, place one cake layer on your serving plate or cake stand. Top with a layer of frosting about ½" thick. Make the frosting a little thicker on the edges of the circle so that the ganache won't spill out. Pour about ⅓ of the milk chocolate ganache evenly over the frosting, keeping it away from the edges. Place the second cake layer on top. Use the remaining peanut butter frosting to frost the top and sides of the cake. Pour the remaining ganache evenly over the top of the cake, making sure it drips down the sides of the cake. If necessary, use an offset spatula to gently push the ganache over the edge of the cake, then let gravity do the rest. Sprinkle chopped mini peanut butter cups in the center of the cake. Allow the ganache to set up before serving.
People feel very strongly about their chocolate! I personally go crazy for milk chocolate and think the milk chocolate ganache is perfect for this cake, which is already very rich. But if you prefer dark chocolate, feel free to replace some or all of the milk chocolate with semi-sweet, dark, or bittersweet according to your preferences.
Recipe by
Lulu the Baker
at https://luluthebaker.com/peanut-butter-chocolate-layer-cake/