Tropical Teriyaki Skewers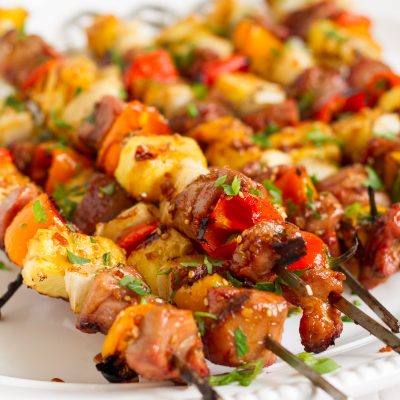 1 Smithfield Sweet Teriyaki Marinated Fresh Pork Tenderloin
1 small sweet onion
1 golden pineapple
about 8 sweet mini peppers
olive oil
salt and freshly ground black pepper
your favorite teriyaki sauce
sesame seeds for garnish
Italian parsley or the green parts of scallions for garnish
Slice the marinated pork tenderloin into 8 slices, then cut each slice into quarters.
Chop the onion, pineapple, and mini peppers into bite-sized pieces
Thread the pieces of pork, pepper, pineapple, and onion onto skewers, alternating pieces of each. Don't put the pineapple and the pork next to each other. You should be able to get 3 or 4 rounds of everything on a single skewer before running out of room. Set each skewer on a clean baking sheet as you finish it.
Lightly brush the finished skewers all over with olive oil, then sprinkle with salt and pepper.
Preheat your grill to medium heat, between 300 and 350°F.
Place the teriyaki skewers on the grill, close the lid, and grill for 10-12 minutes. Flip the skewers over, close the lid, and grill for another 10-12 minutes until the internal temperature of the pork reaches 160°F.
Brush the skewers with prepared teriyaki sauce, continue grilling for 1-2 minutes until the teriyaki sauce is heated through, then place the skewers on a clean serving tray.
Sprinkle with sesame seeds and chopped Italian parsley or green onions, and serve immediately.
If you can't find the Smithfield Sweet Teriyaki Marinated Fresh Pork Tenderloin, you can use whatever flavor your grocery store carries. I think Roasted Garlic & Cracked Black Pepper and Roasted Garlic & Herb would both be good substitutes in this recipe.
Recipe by
Lulu the Baker
at https://luluthebaker.com/tropical-teriyaki-skewers/