Fresh Cranberry Cake with Hot Butter Sauce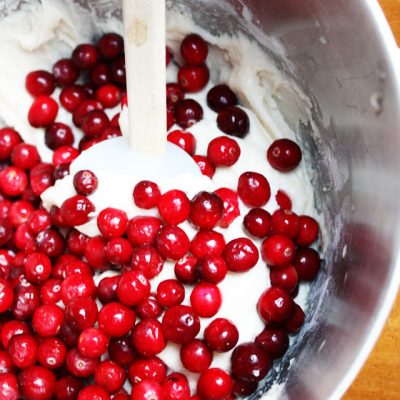 4-5 cups fresh cranberries
1 stick (1/2 cup) unsalted butter, softened
2 cups sugar
1 can (12-oz) evaporated milk
4 cups flour
2 teaspoons salt
2 Tablespoons baking powder
2 sticks butter
2 cups sugar
1 cup cream
2 teaspoons vanilla
Preheat the oven to 350°F. Spray a standard bundt pan with nonstick cooking spray, preferably the kind with flour in it, especially for baking.
Wash the cranberries and set them aside to dry.
In the bowl of a stand mixer, combine butter and sugar until fluffy. Add milk and beat until combined.
In a medium bowl, combine flour, salt, and baking powder. Add dry ingredients to mixer and stir until just combined. Gently fold in the cranberries and spread batter in prepared pan.
Bake for 40-50 minutes, until a wooden skewer inserted in the middle of the cake comes out clean. Remove cake from oven and allow to cool for 15 minutes before removing from pan.
In a small saucepan, melt butter. Stir in sugar and cream, and heat until sugar is melted and sauce is hot. Do not boil! Remove from heat and stir in vanilla. Serve hot sauce over cake. The cake can be served warm or at room temperature.
Recipe by
Lulu the Baker
at https://luluthebaker.com/on-the-5th-day-of-christmas-fresh-cranberry-cake-with-hot-butter-sauce/