Tart Cherry Crumb Cakes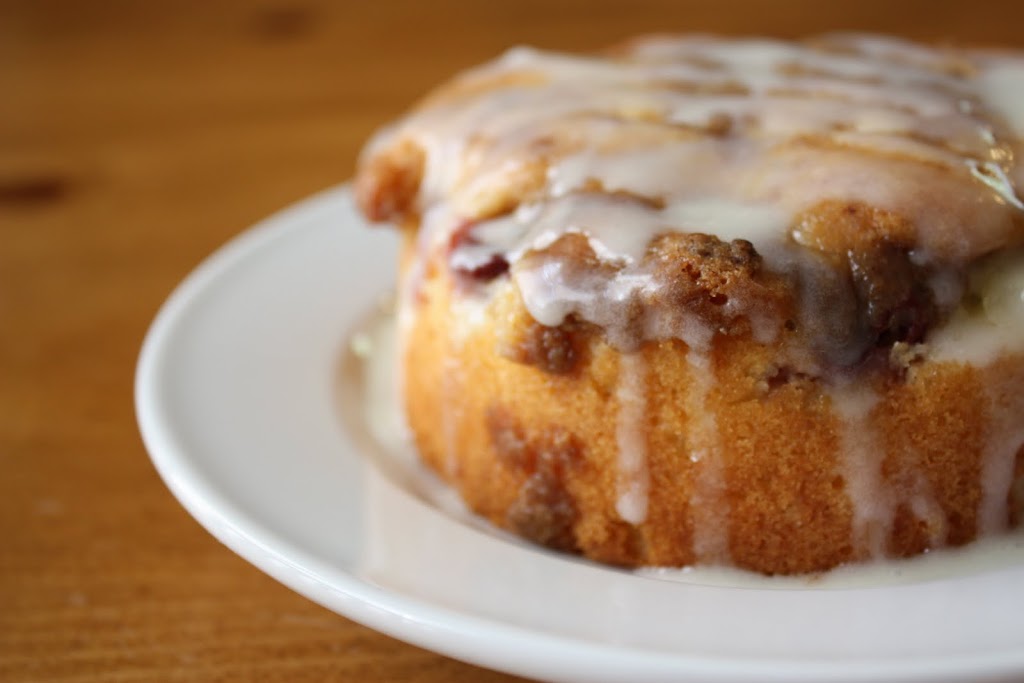 ½ cup unsalted butter, softened
1 cup + 3 Tablespoons sugar, divided
2 eggs
1 teaspoon vanilla
¾ cup sour cream
1¾ cups flour
½ teaspoon salt
1½ teaspoons baking powder
¼ teaspoon baking soda
2 cups tart pie cherries, pitted
¾ cup brown sugar
½ cup flour
¼ teaspoon salt
½ teaspoon vanilla
½ teaspoon cinnamon
½ teaspoon cardamom
4 Tablespoons butter, softened
1 cup powdered sugar
4 Tablespoons cream (may need more)
¼ teaspoon vanilla extract
Preheat the oven to 325 degrees.
Cut six 4" circles out of parchment paper. Spray six mini springform pans (4") with nonstick spray. Lay a parchment circle in the bottom of each pan, and set aside.
In a large bowl, beat butter and 1 cup sugar until light and fluffy. Add eggs one at a time, beating and scraping down the sides of the bowl with each addition. Add vanilla and sour cream and beat until smooth.
In a medium bowl, combine flour, salt, baking powder, and baking soda. Add flour mixture to butter mixture and beat until just combined.
In a small bowl, combine all streusel ingredients. Mix with a fork or your hands until well-mixed and crumbly.
Spread about ½ cup of batter in the bottom of each pan. Divide the cherries evenly among the six pans. Sprinkle a heaping Tablespoon of streusel over the cherries in each pan. Divide remaining batter among the six pans, and top with the remaining streusel.
Bake for 25-30 minutes, until a toothpick inserted in the center of one of the cakes comes out clean.
Remove cakes from oven and let cool 5 minutes before removing from pans.
In a small bowl, whisk together glaze ingredients. The glaze should be just thin enough to drizzle, so if needed, add more cream. Drizzle glaze over cakes and serve warm.