Caramelized Onion, Spinach, & White Cheddar Quiche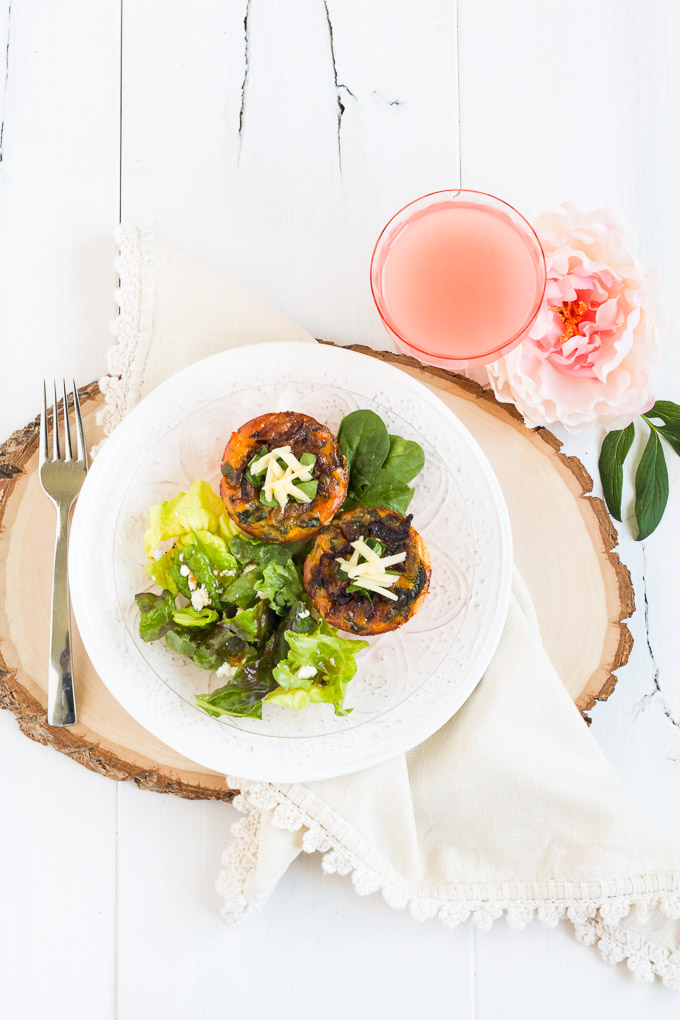 Recipe type:
Breakfast, Brunch
Serves:
1 dozen mini quiche
½ Tablespoon butter
½ a large onion
salt and pepper
½ cup butter, at room temperature
3 oz cream cheese
1 cup flour
a pinch of salt
1 cup shredded white cheddar cheese
1 cup finely chopped baby spinach
caramelized onions
4 eggs
12 oz evaporated milk (or whole milk)
¾ teaspoon salt
¼ teaspoon sugar
freshly ground black pepper
To caramelize the onions, begin by melting the butter in a skillet over medium heat. Slice the onion half into very thin strips, add to the skillet, and stir to coat. Spread the onions out evenly over the bottom of the pan, reduce the heat to low, and let the onions cook gently until they are deeply golden, stirring as infrequently as possible. Remove from heat, season lightly with salt and pepper, and set aside to cool.
Preheat the oven to 350°F. While the onions are caramelizing, make the dough for the crust. In a large bowl or in the bowl of a stand mixer, beat softened butter and cream cheese until smooth. Add flour and salt, and mix until combined. Divide the dough into 4 equal parts, then divide each part into 3 more parts. You should have 12 balls of dough altogether. Press each ball of dough into the bottom and up the sides of a muffin tin. Set aside.
In a medium bowl, combine cheese, spinach, and cooled, caramelized onions. Divide the mixture evenly among the muffin tins.
In a large measuring cup or bowl with a pour spout, whisk eggs, milk, salt, sugar, and black pepper until smooth. Divide the custard mixture evenly among the muffin tins, being careful not to overfill each quiche. You might have leftover custard.
Bake the mini quiches for 35-45 minutes, until golden on top, and until a knife stuck in the center of a quiche comes out with clear liquid on it, but not cloudy liquid. Serve warm or at room temperature.
Recipe by
Lulu the Baker
at https://luluthebaker.com/caramelized-onion-spinach-white-cheddar-quiche/