Peanut Butter Bars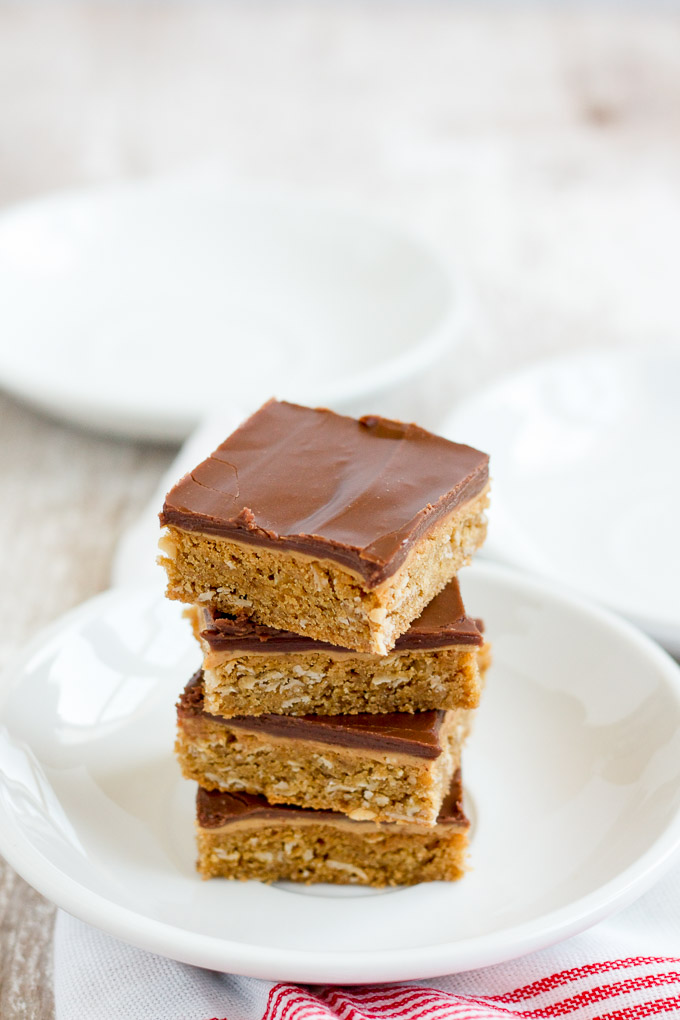 1 cup granulated sugar
1 cup brown sugar
1 cup (2 sticks) butter
1 cup creamy peanut butter
2 eggs
1 teaspoon vanilla
2 cups flour
2 teaspoons baking soda
1 teaspoon salt
2 cups oats
1 cup creamy peanut butter
½ cup (1 stick) butter
¼ cup cocoa powder
¼ cup milk
⅛ teaspoon salt
1 teaspoon vanilla
3 cups powdered sugar
1 Tablespoon hot water
Preheat the oven to 325°F and lightly spray a 12x18" rimmed baking sheet with nonstick cooking spray.
In a large bowl or in the bowl of a stand mixer, beat the granulated sugar, brown sugar, and butter on medium speed until light and fluffy, about 1 minute. Add the peanut butter and beat until smooth. Add the eggs and vanilla, and again, beat until smooth.
In a medium bowl, combine flour, baking soda, and salt. Add the dry ingredients to the mixing bowl and mix on low just until combined. Add the oats and mix again until just combined.
Pat the dough into the prepared pan. The dough will be really sticky. A few techniques I've tried with varying levels of success are patting the dough in with hands sprayed with nonstick cooking spray, patting the dough in with a spatula sprayed with nonstick cooking spray, and patting the dough in with hands that are slightly wet with water. They all work about the same!
Bake the cookies for 20 minutes, then remove from the oven and set aside to cool for a few minutes.
While the cookies are still quite warm, spread the remaining cup of peanut butter over the top of the cookies. Allow the entire thing to cool and set up before proceeding.
When the cookies are completely cool, make the chocolate frosting. Combine butter, cocoa powder, and milk in a medium saucepan, and heat over medium until the butter is completely melted. Remove from heat, and whisk in the salt and the vanilla. Add the powdered sugar and whisk until smooth. Whisk in 1 Tablespoon of hot water, and immediately pour the chocolate frosting over the cooled cookie bars. Spread it evenly over the tops of the bars, getting as close to the edges as you can. Allow the bars to cool and set up completely before cutting.
Cut the pan of cookies into 48 bars, 8 bars one way and 6 the other. Enjoy with a big glass of milk!