SUMMER BERRY GALETTE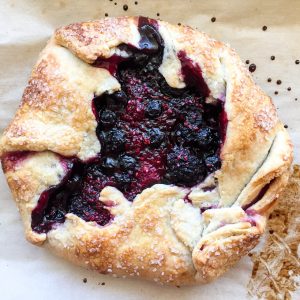 ½ cup sugar
1 Tablespoon cornstarch
1 Tablespoon minute tapioca
a pinch of salt
1 heaping cup each of fresh blackberries, blueberries, and raspberries
1⅓ cups flour
⅛ teaspoon salt
1 stick cold butter, cut into cubes
4 Tablespoons ice water
coarse sugar for sprinkling
milk or cream for brushing on the crust
Preheat the oven to 400°F.
To make the filling, combine sugar, cornstarch, tapioca, and salt in a large bowl. Add berries and toss to coat; set aside.
To make the crust, pulse flour and salt in the bowl of a food processor until combined. Add butter chunks and pulse just until butter is in pea-sized clumps. Slowly add cold water and run food processor just until dough comes together in one mass. Place dough on a well-floured surface and roll into a large circle ⅛″ thick. Transfer the dough to a parchment-lined baking sheet.
Spoon the filling into the middle of the dough. Fold one section of the dough towards the middle of the filling, being sure not to cover the filling completely. Continue folding the dough toward the center until all of the dough has been folded in, and the filling is safely held in. Brush the top of the crust with milk or cream, and sprinkle with coarse sugar. Bake for 20-25 minutes or until the crust is golden. Remove from oven and place on a cooling rack to cool completely. Cut into wedges to serve.