Barbecue Chicken Sandwiches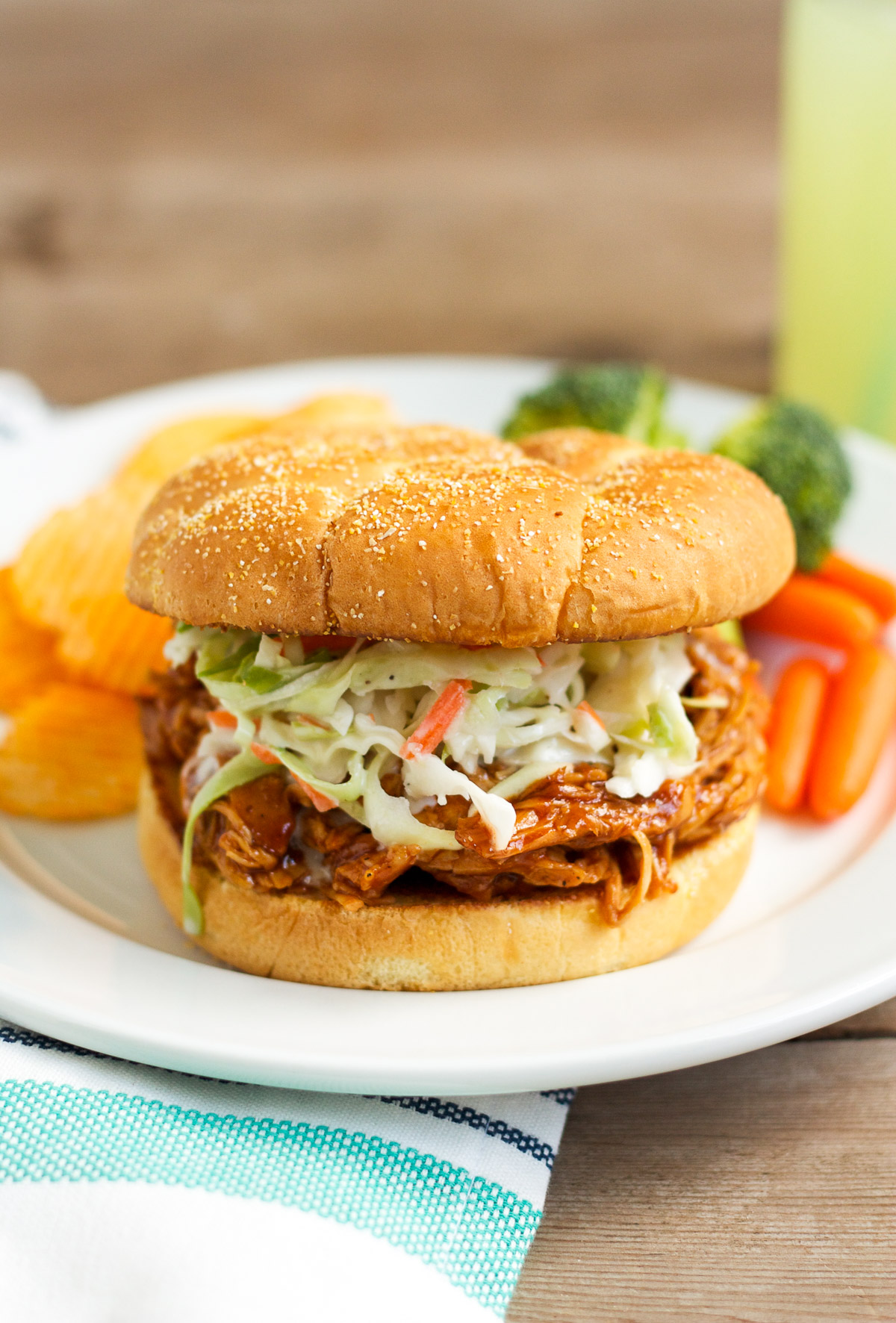 ½ cup mayonnaise
⅓ cup sugar
¼ cup milk
¼ cup buttermilk
2½ Tablespoons lemon juice
1½ Tablespoons white vinegar
½ teaspoon salt
freshly ground black pepper
1-lb bag shredded cabbage or cole slaw blend (7-8 cups)
¼ cup shredded carrot
4 lbs boneless, skinless chicken breasts (not frozen!)
kosher salt
freshly ground black pepper
2 Tablespoons extra-virgin olive oil
1 medium onion, peeled and thinly sliced
8 cloves garlic, peeled and lightly smashed
32 oz BBQ sauce
8 large hamburger buns
softened butter
To make the cole slaw, begin my whisking the mayo, sugar, milk, buttermilk, lemon juice, vinegar, salt, and pepper in a large bowl until smooth. Add cabbage and carrots, and toss to coat. Cover and chill at least 1 hour.
To make the chicken, preheat the oven to 300°F. Season the chicken breasts with salt and pepper on both sides. Over medium-high heat on the stove, heat the oil in a large dutch oven. Add the chicken breasts, and cook until lightly browned on both sides. Remove the chicken from pot and set aside on a large plate. Add sliced onions and garlic cloves to the dutch oven, and saute until onions are translucent and tender, about 5 minutes. Add chicken back to the pot and top with BBQ sauce. Cover and bake in the preheated oven for 1 hour 30 minutes.
When the chicken is cooked through, place the dutch oven on the stove or on a heat-proof surface. Remove the chicken from the pot and set aside on a large cutting board. Remove and discard any garlic clove pieces you can find in the sauce. Using two forks, shred the chicken. Put the shredded chicken back in the pot, stir to combine, cover, and set aside.
Butter the inside of the hamburger buns, and griddle them butter-side down until golden. Place the griddled buns butter-side up on a cooling rack to cool.
To assemble the chicken sandwiches, place a heaping forkful of chicken on a bottom bun. Top with a spoonful of cole slaw and the top bun. Enjoy!
You might be tempted to use frozen chicken in this recipe, but make sure to thaw it first. Otherwise, the sauce will be watery.

Don't skip the step where you brown the chicken before adding it to the sauce. It makes a huge difference in both flavor and texture.

I used to just griddle hamburger buns and then stack them on a plate to cool, but that makes them get soggy and flat. Going to the extra trouble of putting the griddled buns on a cooling rack to cool ensures that they hold their shape and add a very pleasant crispness to the sandwich.
Recipe by
Lulu the Baker
at https://luluthebaker.com/barbecue-chicken-sandwiches/