White Bean & Kale Soup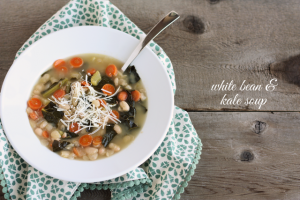 2 Tablespoons olive oil
1 medium onion
2 large carrots, peeled and diced
3 celery sticks, diced
1 teaspoon minced garlic
6 cups chicken or vegetable broth
2 15-oz cans white or navy beans, drained
1 bunch kale, washed and chopped into bite-sized pieces
salt and pepper
shredded parmesan cheese
In a large dutch oven or heavy-bottomed pot, heat olive oil over medium heat. Add onion, carrots, and celery, and saute until onions are translucent, about 10 minutes. Add garlic and saute 1-2 minutes more, until garlic is fragrant. Add broth and 1½ cans of beans.
Put the other ½ can of beans in a small bowl, and use the back of a fork to mash the beans. Stir mashed beans into the soup along with the kale. Bring to a simmer, cover, and lower the heat.
Simmer, covered, for 20-25 minutes, until vegetables are tender. Salt and pepper to taste.
Serve topped with a light sprinkle of shredded parmesan cheese.