Red Leaf Lettuce Salad with Raspberry Citrus Vinaigrette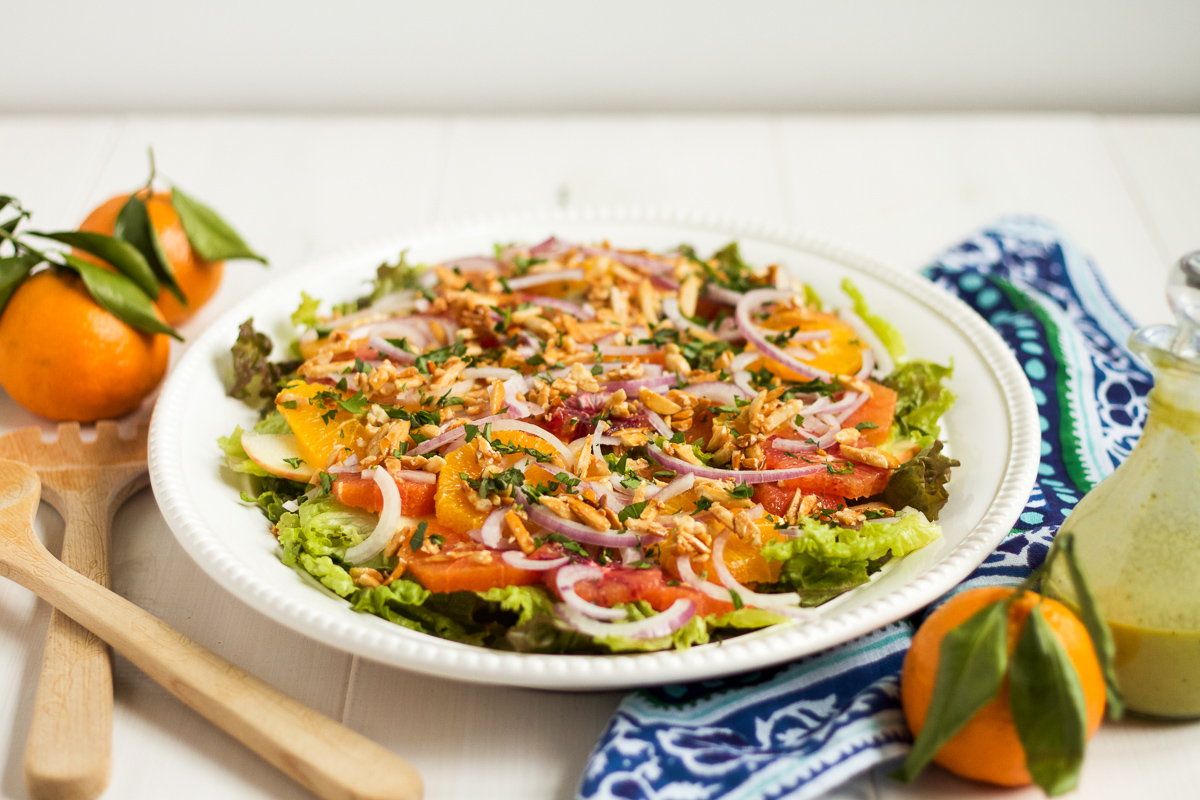 ¾ cup slivered almonds
3 Tablespoons sugar
a generous pinch of salt
½ cup extra-virgin olive oil
⅓ cup fresh orange juice
3 Tablespoons sugar
3 Tablespoons raspberry vinegar
2 Tablespoons coarsely chopped fresh oregano
1 Tablespoon coarsely chopped fresh parsley
1 clove garlic
1 teaspoon Dijon mustard
½ teaspoon salt
freshly ground black pepper
2 large heads red leaf lettuce
3 to 4 medium apples, cored and thinly sliced
4 large sweet oranges, peeled and sectioned or sliced
1 small red onion, halved and thinly sliced
To make the sugar almonds, combine almonds, sugar, and salt in a small skillet over medium heat, cook, stirring gently, until sugar is melted and almonds are golden, 5 to 10 minutes. Pour almonds onto a piece of aluminum foil and set aside to cool.
To make the vinaigrette, combine all ingredients in a blender. Blend until smooth and creamy. If you are using a Vitamix or a blender with multiple settings, begin with the lowest setting and gradually increase the power until all of the ingredients are combined. Pour the dressing into a jar or serving container, and refrigerate until needed.
To make the salad, begin by washing and drying the lettuce. Cut off the root end, then tear the leaves into bite-sized pieces. Top with apple slices, oranges, and onions. Break the cooled almonds into small pieces (they can be sharp, so handle them gently), and sprinkle evenly over the top. Pour on the dressing and toss to coat. Season with more salt and pepper as needed.
Recipe by
Lulu the Baker
at https://luluthebaker.com/red-leaf-lettuce-salad-raspberry-citrus-vinaigrette/