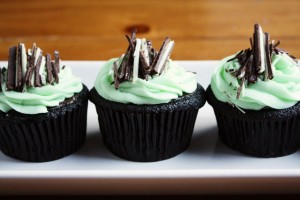 Chocolate and Mint is one of my favorite flavor pairs. I don't know what it is that makes them such perfect partners, but I can't think of a better match for either of them than the other! These culinary co-conspirators meet up in one of my favorite candies, the Andes Mint–a single bite of melty, minty goodness!
My first post as a new contributor on
Best Friends For Frosting
is an irresistible Andes Mint Cupcake! Rich chocolate cupcakes covered in fluffy mint frosting, with a secret layer of Andes Mint hidden in between! See
the full recipe
on Best Friends For Frosting!