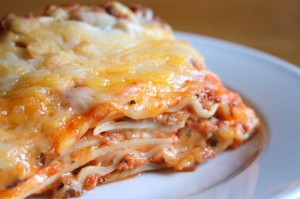 I think one of the reasons I love to cook so much is that I grew up around delicious food. Basically everyone on my mom's side of the family is a fantastic cook. Even as an adult, I look forward to going to my mom's house for dinner because there is sure to be something mouthwatering on the menu, and more than a few of my most favorite recipes have come from my grandma, Nana. Getting together with my extended family is a culinary treat as well, and I always come home from reunions and visits with a small stack of new recipes to try.
This palate-pleasing lasagna recipe comes from my Aunt Kari. Lasagna can sometimes be a labor-intensive dinner that dirties a million dishes, but this version is simple and quick. And it is a huge hit with everyone, from the picky preschoolers to the lasagna connoisseurs.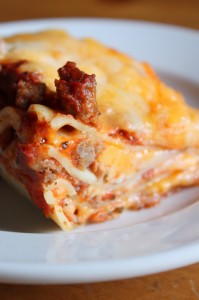 1 lb ground beef
salt and pepper
3 15-oz cans tomato sauce
1 Tablespoon dried basil
1 teaspoon garlic powder
1 Tablespoon dried parsley
3-4 cups shredded cheddar cheese
3-4 cups shredded mozzarella cheese
12 lasagna noodles, cooked al dente
Brown and drain ground beef; season lightly with salt and pepper. Add tomato sauce, basil, garlic powder, and parsley, and stir to combine. Remove from heat and set aside. Preheat oven to 350°F. Spread a small amount of sauce in the bottom of a 9×13″ baking pan. Combine the cheeses in a large bowl. Lay three noodles side by side across the bottom of the pan. Top with 1/4 of the sauce and 1 1/2 to 2 cups of cheese. Repeat layers of noodles, sauce, and cheese until you have 4 layers of everything and all of your ingredients are used up. Bake uncovered for 30 minutes until cheese is melted and sauce is bubbly. Remove from oven and let sit for 5 minutes before serving.