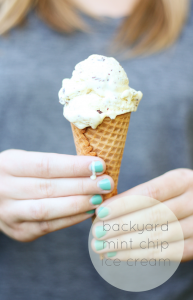 When I was pregnant with our oldest, I craved two things: spaghetti with meat sauce and mint chip ice cream. While heartburn made it tragically impossible to eat spaghetti with meat sauce for every meal, mint chip ice cream was fair game, and I ate a lot of it. Luckily, I didn't get tired of it; mint chip is still one of my favorite flavors–smooth and velvety, cool with just a hint of dark chocolate. Making it with fresh mint instead of mint flavoring gives it a fantastically earthy, herbal quality, and makes it the perfect end to a fresh-from-the-garden summer meal.
Backyard Mint Chip Ice Cream
adapted from the recipe for Brown Sugar Vanilla Ice Cream from The Sweet Melissa Baking Book by Melissa Murphy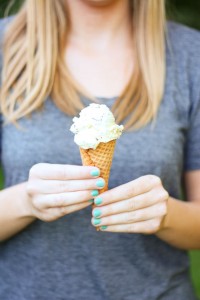 2 cups heavy cream
1 cup low-fat milk
1/2 cup granulated sugar
1/8 teaspoon salt
1/4 cup dry milk powder
5 egg yolks
1/2 teaspoon vanilla
1 cup loosely packed mint leaves, roughly chopped
4 oz finely chopped semisweet chocolate
Combine all ingredients except chocolate in the top of a double boiler over simmering water. Cook, stirring constantly, until thick enough to coat the back of a wooden spoon. Cover the mixture with plastic wrap and refrigerate until completely chilled through. Strain the mixture through a fine mesh sieve to remove mint leaves and any bits of cooked egg from the custard. Place custard in the bowl of an ice cream freezer and freeze according to manufacturer's instructions. Add chopped chocolate and allow to churn until chocolate is evenly distributed, about 1 minute more. Scoop ice cream into a container with a tight-fitting lid, and place in freezer until firm, at least four hours. Scoop and enjoy! Makes about 2 quarts.