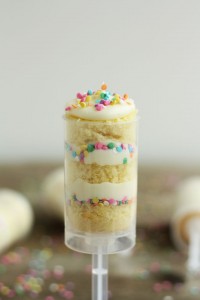 So…today is my birthday! I've always really loved birthdays because we get to feel so special, so cared for. Hopefully everyone feels special and cared for all year, but birthdays are just different, more magical somehow. It's like the very air is charged with a greater dose of excitement and possibility and happiness. And it isn't about the gifts or the parties or the fuss made, although all of those things are wonderful and fun, and sometimes sorely needed. I think the secret magic of birthdays lies, quite simply, in feeling loved.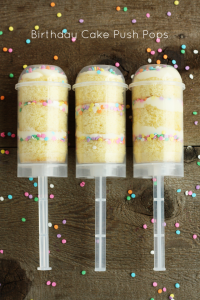 1 yellow cake, baked in a sheet pan & cooled completely
1 batch white frosting (Cream cheese is my favorite, but vanilla works too.)
colored sprinkles
a frosting bag & tip
18 clear push pops
a small, round biscuit cutter that fits just inside the push pops
Using the biscuit cutter, cut as many circles out of the sheet cake as you can; you should get 54, with lots of scraps to snack on. Place a cake circle in the bottom of a push pop, pressing firmly all the way down. Pipe a circle of frosting around the edge of the cake circle, leaving a small gap between the push pop and the frosting. Fill that gap with sprinkles, then pipe more frosting on top, this time going all the way to the edge. Repeat the layers of cake, frosting, sprinkles, and more frosting. Place the third cake circle on top, press it down as far as it will go, and top with frosting and sprinkles. You can either put the lid on at this point or stand the push pop up somehow. I actually like them with the lid on; they're nice and neat and mess-free. The push pops I used have a lid that doubles as a stand, but not all of them do. Mine were from Wilton and are available at Michaels.