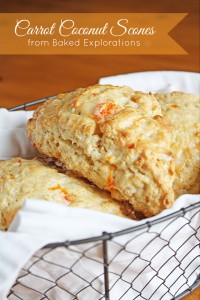 I've mentioned several times before that I started this blog almost 4 1/2 years ago so that I could start participating in online baking groups. They've been so much fun to be a part of, have pushed me to make things that are challenging and exotic, and have expanded my cooking and baking repertoire. I have especially loved cooking my way through a few cookbooks, like Baked Explorations by Matt Lewis and Renato Poliafito. This particular baking group, Club: BAKED, began when a bunch of members of another baking group finished an entire cookbook and needed something new and wonderful to do. I wasn't 100% I wanted to start another cookbook–it is such a commintment!–but in the past 18 months or so that we've been baking from Baked Explorations, I have not once regretted signing up or purchasing this amazing cookbook! The Baked boys are geniuses, and their cookbooks are filled with the most mouth-watering and heavenly treats. I haven't made a recipe from them yet that wasn't over-the-top fantastic!
While every single recipe in this cookbook sounds delicious, there are a few that jumped out at me the first time I read through it. Carrot Coconut Scones with Citrus Glaze have been at the top of my to-bake list forever, and I was shocked no one had chosen them yet. I'm a big breakfast-eater, and while I actually really like cold cereal (like, a lot!), I loooooove any kind of breakfast pastry or baked good. I really had no idea what to expect from these (other than being delicious), and love, love, love the way they turned out! They have lovely orange flecks from the carrot puree (or huge chunks of orange if you are incredibly lazy like me!) and a mellow, citrusy sweetness. I made 8 scones and probably ate half of them myself! In one day. Like I said, I really like breakfast.
Carrot Coconut Scones with Citrus Glaze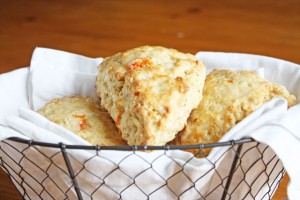 for the scones:
1 medium carrot, coarsely chopped
1/4 cup orange juice
2 3/4 cups flour
1/2 cup sugar
1/2 cup rolled oats
1 Tablespoon baking powder
1/4 teaspoon salt
1 cup shredded sweetened coconut
1/2 cup unsalted butter, cold and cut into chunks
1 large egg
3/4 cup buttermilk
1 Tablespoon vanilla
1 egg white, beaten
1 Tablespoon water
for the citrus glaze:
1 Tablespoon fresh lemon juice
2 Tablespoons fresh orange juice
1 cup powdered sugar
To make the scones, combine the carrot and orange juice in a small, microwave-safe dish. Cover with plastic wrap and microwave 5 minutes, or until carrot is fork-tender. Remove from microwave, carefully uncover, and mash with a fork or potato masher, or process in a food processor until smooth. Set aside to cool. Preheat oven to 400°F and line a cookie sheet with parchment paper. In a large bowl, combine flour, sugar, oats, baking powder, salt, and coconut. Add butter chunks and use your hands to work butter into dry ingredients until the mixture is coarse. In a small bowl, combine 1 egg, buttermilk, vanilla, and 1/4 cup carrot puree. Add to dry ingredients and stir until dough just comes together. Knead with your hands until everything is mixed in, and shape the dough into a flat disk about 1 3/4 inch thick. Use a sharp knife to divide the disk into 8 equal wedges, and place wedges on prepared cookie sheet. In a small bowl, combine egg white and water. Brush wedges lightly with beaten egg white mixture, and bake 18-20 minutes, until a toothpick inserted in the center of a scone comes out clean. Place on a cooling rack over the parchment-lined baking sheet and set aside.
To make the citrus glaze, combine all ingredients in a medium bowl and whisk until smooth. Drizzle glaze over cooling scones and allow to set-up before serving.