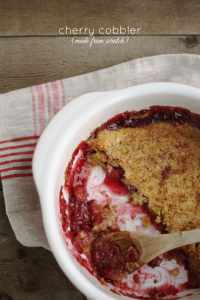 My sister Emily called me a few months ago with an assignment: take one of her favorite desserts, Cherry Dump Cake, and make it from scratch. We grew up eating Cherry Dump Cake and it's really delicious, but it is about as junky as a "homemade" dessert can get: dump a few cans of bright red cherry pie filling in a pan, sprinkle a box of yellow cake mix over the top, follow up with a hefty drizzle of melted butter, and bake. As a lot of us have tried to move away from eating highly processed foods and started cooking more from scratch, Cherry Dump Cake has, quite sadly, fallen by the wayside. But after just a few tasty tries, I hit upon a from-scratch cherry cobbler recipe that is even better than the original Cherry Dump Cake and almost as easy to make! Instead of having the sicky-sweet, fake flavor of cherry pie filling, it tastes bright and fresh thanks to canned tart cherries, and the chemical aftertaste of yellow cake mix is replaced by sweet vanilla and hints of cinnamon and nutmeg. And while the list of ingredients is noticeably longer than before, it takes less than 10 minutes to put together. Fresh, easy, and better than the original? A win all around!

Cherry Cobbler (aka, Cherry Dump Cake)
for the cherry filling:
4 14.5-oz cans Red Tart Cherries, drained (NOT cherry pie filling!)
3/4 cup sugar
3 Tablespoons cornstarch
1/4 teaspoon kosher salt
for the topping:
1 cup sugar
3/4 cup all-purpose flour
3/4 cup cake flour
1/4 cup dry milk powder
1 1/2 teaspoons baking powder
1/2 teaspoon salt
1 stick of cold butter, cut into pieces
1 1/2 teaspoons vanilla
1 stick of butter, melted
cinnamon and nutmeg for sprinkling
Preheat the oven to 350°F. Lightly spray a 9×13″ baking pan with nonstick spray. In a medium bowl, combine drained cherries, sugar, cornstarch, and salt. Mix well and pour into the prepared pan. In the bowl of a food processor, combine the sugar, flour, cake flour, milk powder, baking powder, and salt. Add the cold butter and vanilla, and process until the mixture is fine and sandy. Sprinkle the topping evenly over the cherry filling. Drizzle melted butter on top, then sprinkle with cinnamon and nutmeg. Bake for 45-50 minutes, until the top is golden. Serve warm, topped with whipped cream or vanilla ice cream.