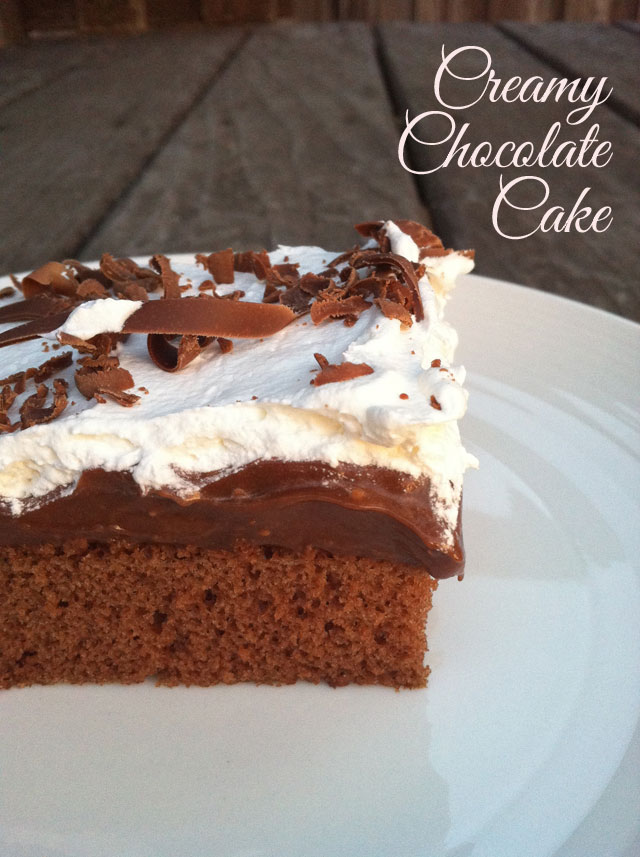 I've been eating this cake for my entire life and just discovered something amazing about it a few days ago: this is man-catchin' cake! No one can resist the delicious temptations Creamy Chocolate Cake has to offer, but for whatever reason, men are especially drawn to its siren song. Maybe it's the tender chocolate cake base that calls so sweetly. Maybe it's the thick, silky chocolate pudding spiked with tangy cream cheese, or the sweet Cool Whip topping covered in tiny Hershey Bar curls. I wish I knew, because I'd bottle it and make my fortune!
from my Aunt Suzi, who wrote the recipe in a little recipe notebook she gave me when I got married
You don't actually need a huge Hershey Bar for the top, but thick Hershey Bars are a lot easier to grate than the thin ones!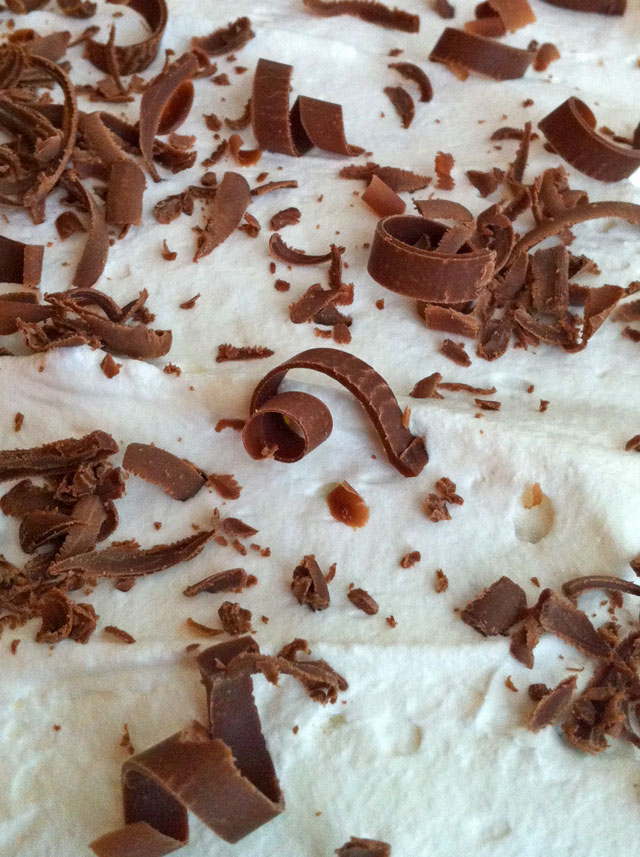 1 chocolate cake mix, plus ingredients to make (my recipe calls for a German Chocolate cake mix, but my mom has always used Devils Food; they're both delicious)
2 large (5.9-oz) packages instant chocolate pudding
5 cups milk (not skim)
1 8-oz brick cream cheese
1 large 16-oz tub Cool Whip
1 king size Hershey Bar
Preheat oven to 350°F. Spray a cookie sheet with nonstick cooking spray and set aside. Combine cake ingredients according to package directions. Pour cake batter into prepared sheet pan and bake 15 minutes or until a toothpick inserted in the center comes out clean. Set cake aside to cool. In a large bowl, combine pudding and milk. Beat on medium speed for 2 minutes, then allow to rest for 5 minutes. Add cream cheese and beat until smooth. I have a hard time getting it totally smooth, so just beat it until you don't want to spend any more time on that step! Spread chocolate pudding mixture on completely cooled cake. Top with Cool Whip, being careful not to mix the layers. Using the medium holes on a box grater, grate the Hershey Bar. Sprinkle chocolate shavings all over the top of the cake. You can alternately use a vegetable peeler to make chocolate curls for the top of the cake. Serve immediately! Serves 16-20 normal people, or 5 of the men in my family!
SaveSave