This month's challenge is brought to us by Karen of Bake My Day and Zorra of 1x umruehren bitte aka Kochtopf. They have chosen Tuiles from The Chocolate Book by Angelique Schmeink and Nougatine and Chocolate Tuiles from Michel Roux.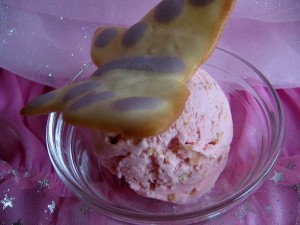 After missing December's Daring Bakers Challenge, I was very excited to get back to it this month. Sadly, I feel like I didn't give it 100%. Oh well. Our challenge this month was great: bake classic cookies called tuiles, shape them, decorate them, and pair them with something light and fruity. The example they gave us shape-wise was butterflies, and I decided not to think outside the box at all this month, so I did butterflies. The batter was a cinch to make. I started running into problems right before the baking step. Because I'm such a genious, I decided to use my silpat instead of parchment paper on my cookie sheet, but it made my butterfly stencil slide all over the place, so spreading the batter was kind of a nightmare. Then, because I'm such a lazy, impatient genious, I slathered the batter on way thick. I ended up having to bake the cookies longer than they were supposed to need, and instead of turning out nice and crisp, they were thick, strange, and chewy. But I think they looked kind of cute. Next time, I'll not use the silpat and take my time a little more spreading the batter.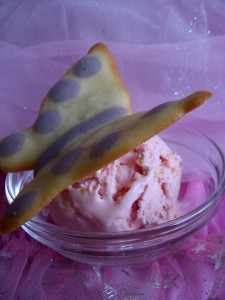 I chose to pair my tuile butterflies with a treat my mom likes to call "Sugarplum Ice Cream." It is a very easy frozen treat made of sherbet, ice cream, cool whip, cookies, and nuts. It is easy, refreshing, and delicious. And it seemed to go really nicely with the whole butterfly thing.
Sugarplum Ice Cream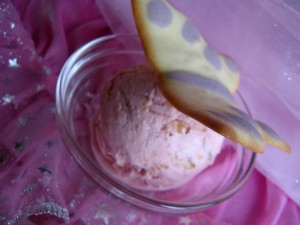 1/2 gallon raspberry sherbet, softened
1/2 gallon pineapple sherbet, softened
1/2 gallon vanilla ice cream, softened
1 large container cool whip
1 package Mother's Coconut Macaroons, broken into gravel-sized chunks (super hard to find; I used the Wal-Mart equivalent)
1 1/2 cups chopped walnuts
Combine all ingredients in large bowl. Refreeze until hardened; serve. Makes a whole lot!