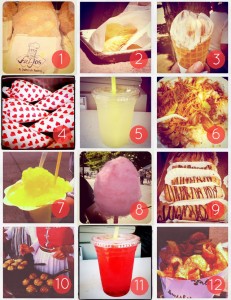 The end of summer means lots of things: the kids will be going back to school soon; tomatoes and corn and peaches are ripe and ready to eat; and you can find delicious (if not slightly junky) food to eat pretty much every weekend for the next month and half because it is festival season! We spent last weekend at a sweet little Scandinavian Festival that we look forward to every year. There are kids in Norwegian and Swedish costumes doing cute folk dances, men in viking garb wandering around with horned helmets, and best of all, food, food, and more food. Here's a little of what I ate at the ScandiFest:
1. Fri-Jos–Basically piping hot fried dough covered in cinnamon and sugar. I ate 3 over 3 days (and you would too, so don't judge!).
2. Swedish Meat Pies–Savory shredded potatoes, cheese, and ground beef tucked into a yummy sour cream pastry. The line for these babies always snakes around the corner and down an alley.
3. Oregon Mint Fudge Ice Cream–from the Girl Scouts booth.
4. Almond Delights–Warm almonds covered in a candied cinnamon sugar coating. I always buy a bag and eat them by myself; Melissa doesn't share food!
5. Lemonade–There are so many lemonade stands at the festival, but I found the best! Fresh squeezed, and in 4 flavors (keep reading).
6. Chicken Teriyaki–What? That's not Scandinavian? No, but it sure is good!
7. Shave Ice–I got strawberry pina colada. Twice.
8. Cotton Candy–Because you cannot go to a fair and not buy cotton candy. The ones we bought on Saturday were very modest in size, but the ones we bought on Thursday were 2 feet tall!
9. Candy Wrappers–Candy bars (in this case a Snickers) wrapped in puff pastry, baked, and drizzled with dark chocolate.
10. Aebleskivers–These cute little balls of pancake batter are fried in a special Aebleskiver pan and served with homemade strawberry jam. They are the most popular food at the Scandinavian Festival, and we bought 30.
11. Raspberry Lemonade–See #5. I couldn't resist; I had to try more than one flavor!
12. Potetgul Swirl–Do you like potato chips? How about a giant paper cone full of freshly made potato chips seasoned with some kind of delicious garlic parmesan sprinkle. Yeah? Me too.
And not pictured (but enjoyed last weekend nevertheless) are cream puffs, corn dogs, and crepes. Lucky for me, this only happens once a year!