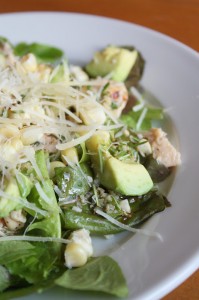 Last summer, right before my mom flew home after coming to visit the new baby, she made a dinner salad we had both been eyeing in Real Simple. And life in our house–or at least our kitchen–was forever changed! You would think a salad with just a few ingredients–and not very exotic ones at that–would taste average and ordinary. But the flavors in this easy salad hit all the right notes and blend perfectly to create a veritable taste sensation. The rosemary is sharp, the lemon bright. The grilled corn is juicy and sweet, and the avocado is creamy with just a hint of mild spice. And let's not forget the nutty saltiness of the parmesan cheese. We ate this delicious salad over and over again until the cool fall weather arrived, and it is the dish I have been most looking forward to as summer once again approaches.
Grilled Chicken, Corn, and Avocado Salad
According to the magazine, this makes 4 servings, but I can easily polish off half the recipe by myself!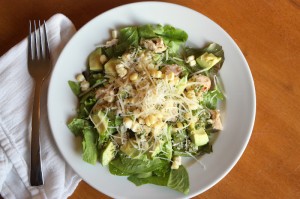 1/4 cup fresh lemon juice
2 Tablespoons chopped fresh rosemary
4 cloves garlic, minced, (about 1 heaping Tablespoon)
4 Tablespoons good olive oil, divided
kosher salt
freshly ground black pepper
12 oz chicken breast (we always use tenders)
3 ears corn, shucked
5 ounces baby spinach or lettuce (not iceberg)
1 avocado, diced
shredded Parmesan cheese for topping
In a small bowl, whisk lemon juice, rosemary, garlic, 3 Tablespoons olive oil, 1/2 teaspoon salt, and a little pepper. Pour half of the dressing into a large ziplock bag. Add the chicken, seal, and refrigerate about 30 minutes. Set aside the remaining dressing. Fire up your gas grill and set it to medium. Rub the corn with the remaining Tablespoon of olive oil and grill until golden on all sides. Remove from heat, allow to cool, and cut the kernals off the cobs. Remove the chicken from the marinade (discard marinade), season with another pinch of salt and pepper, and grill until cooked through. If you are using whole chicken breasts or chicken breast halves, this will take considerably longer than if you are using chicken breast tenders. When cooked through, remove chicken from heat, and chop coarsely. Set out 4 plates and divide spinach or lettuce, chicken, corn, avocado, and remaining dressing evenly among the 4 plates. Top each serving with a generous sprinkle of shredded parmesan cheese.