I love holidays because they give me a great excuse to put a lot of effort into the food I serve my family. No casseroles. No boxed-mixes. Just lots of time in the kitchen without anyone wondering "Why all the fuss?" Here's a sampling of what we ate today:


Triple Berry Shortcake with Vanilla Biscuits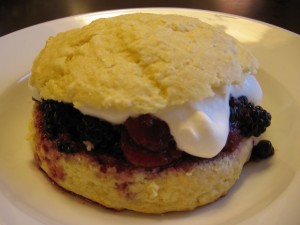 These are easy, delicious, and make your house smell DEE-VINE. I didn't have vanilla sugar, so I just added 1 teaspoon vanilla extract to the wet ingredients.
1 3/4 cups flour
1/3 cup vanilla sugar
2 teaspoons baking powder
1/4 teaspoon baking soda
1/4 teaspoon salt
1/3 cup cold butter
1 egg
1/3 cup sour cream
1/2 cup milk
Mix together dry ingredients; cut in butter. Mix wet ingredients together and add to dry ingredients. Stir until just combined. Drop by spoonfuls (I used a HUGE ice cream scoop because I wanted big, honkin' shortcakes) onto a cookie sheet. **Now, the instructions I had didn't specify greased or ungreased, so I used a silpat and all was well.** Bake at 375 for 12-15 minutes. Cool. Serve with fresh, sugared berries (I used strawberries, blackberries, and blueberries) and whipped cream.
Berry-Lemon Sparklers
(yes, that's right; berries AGAIN!)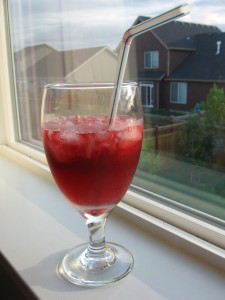 I don't think I'm allowed to post the recipe because it came from
Everyday with Rachel Ray
. But they were delicious, so look up the recipe
here
.
Nana's Macaroni Salad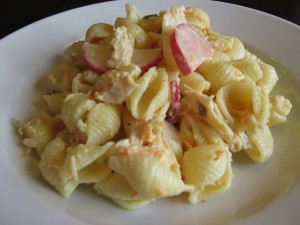 I don't like picnic salads: macaroni salad, potato salad, etc. But I have always loved my Nana's Macaroni Salad, and will take any excuse to make it.
1 lb small shell pasta, cooked and rinsed with cold water
1 can chicken chunks, drained and broken into small pieces
1 large carrot, shredded (I use the medium holes on a box grater)
6 decent-sized radishes, quartered and thinly sliced
1 bunch scallion, thinly sliced, white and light green parts only
3-4 heaping Tablespoons dill pickle relish
1 big scoop mayo
pepper
seasoned salt
Combine all ingredients. If it is too dry, add more mayo. Season to taste. Refresh leftovers with another small spoonful of mayo.