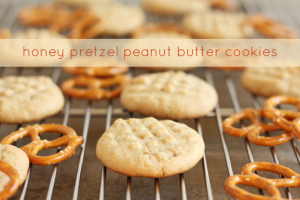 A few months ago, our Costco was giving out samples of delicious peanut butter flavors made by a local company. I'm not ashamed to admit that I stopped by that particular sample station several times during our shopping trip! The flavor that I kept going back for was Honey Pretzel Peanut Butter. It was the perfect combination of salty and sweet, with little chunks of crunchy pretzel, and I knew immediately that it wanted to make cookies that tasted just like it. I tinkered around with our long-time favorite pb cookie recipe, replacing the granulated sugar with honey and adding lots of crunchy pretzel bits, and the results are delicious, like a good peanut butter and honey sandwich mixed with salty pretzels. Which, paired with a tall glass of ice-cold milk, is like totally my 5 year-old self's dream snack!
Honey Pretzel Peanut Butter Cookies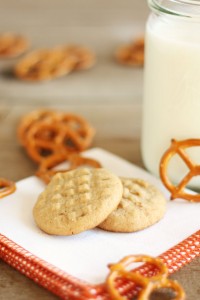 1/2 cup shortening
3/4 cup peanut butter
1/3 cup brown sugar
1/3 cup honey
1 egg
1 teaspoon vanilla
1 1/2 cups flour
1 teaspoon baking soda
1/2 teaspoon salt
1 cup coarsely crushed pretzels
granulated sugar for rolling
Preheat the oven to 350°F. In the bowl of a stand mixer, beat shortening and peanut butter until smooth. Add brown sugar and honey and beat until combined, then add egg and vanilla, again beating until combined. In a small bowl, combine flour, baking soda, and salt. Add dry ingredients to mixer and beat until smooth. Gently stir in crushed pretzels. Scoop dough by the Tablespoon and roll into balls. Roll the dough balls in granulated sugar and place on an ungreased cookie sheet. Use a fork to press a criss-cross pattern in the top of each ball of cookie dough. Dip the fork tines in sugar if they start to stick. Bake cookies for 8 minutes, then remove from oven and allow to cool before eating. Makes 3-4 dozen.