I am so excited to introduce a new series on Lulu the Baker today! I love getting little glimpses into the homes of creative people, and I love hearing tips, tricks, and hints from their everyday lives. With this series, In My Kitchen, I'll get to share with you decorating ideas, secret ingredients, recipes, packaging tips, and more from the kitchens of some of my favorite bloggers, artists, and crafters. Without further ado…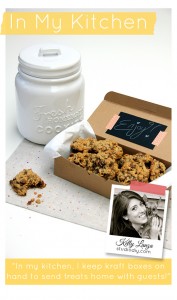 "I love to cook, but I really love to bake. Since there's only two of us in my household, I always keep simple kraft-colored boxes in my kitchen so I can easily package up leftover desserts. I'll send treats homes with guests or with my boyfriend to work, and I'll prepare little hostess gifts or for visitors staying in hotels. All you need is a little note and some pretty ribbon or baker's twine to wrap it up, and you're good to go!"
Kelly Lanza is the editor and founder of Studio DIY, a DIY party blog and resource where she celebrates every event, holiday, and milestone, big or small. She is also a freelance blogger and party crafter for several local clients and national blogs. She's a handmade junkie, sometimes baker, always creator, and an East Coast transplant living in Los Angeles.
I'm so grateful to Kelly for being my guinea pig on this little blog series. It's an idea I had forever ago, and I knew I needed to find someone kind and generous to take a chance on it. Love you, Kelly! xoxo
The kraft box pictured above is available online from Garnish.