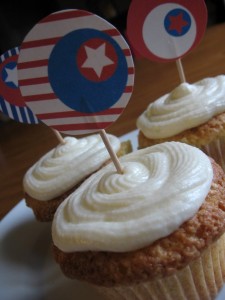 I had seen several ideas for inauguration day desserts, but I'm trying not to go to the grocery store this week–just to see if it can be done–so I couldn't make the flag cake with the berries, or the red, white, and blue jello parfaits or anything like that. I had also seen cute patriotic cupcake topper print-outs on Tangarang. So I opted for inauguration cupcakes. It wasn't until I already had my heart set on said cupcakes that I discovered that I didn't have a cake mix or even any eggs. Yikes! I ended up borrowing eggs and making Flower Cupcakes from the Barefoot Contessa. The reviews on the Food Network Website made them sound like the most delicious cupcakes in the world. Well, guess what…they were the most delicious cupcakes in the world! Someone who tasted one even said those very words: "Wow. This is the most delicious cupcake in the world!" My one tiny bit of advice: The directions tell you to fill the cupcake papers to the top, and you'll think, "That's insane." Trust yourself. Fill them like you would for any other recipe; you will get more than 24 cupcakes and they won't overflow in your oven! OK. One more tiny bit of advice: The frosting was delicious, but you maybe don't need all 3 sticks of butter that the recipe calls for! Maybe…
Flower Cupcakes
from the Barefoot Contessa, here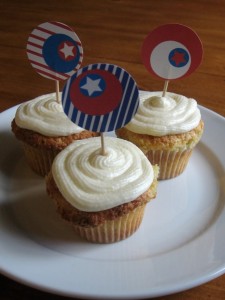 2 1/4 (18 Tablespoons) sticks unsalted butter, at room temperature
3 cups sugar
6 eggs, at room temperature
1 cup sour cream, at room temperature
1 1/2 teaspoons vanilla
3 cups flour
1/3 cup cornstarch
1 teaspoon kosher salt
1 teaspoon baking soda
Heat the oven to 350. Line muffin pans with paper liners. Cream the butter and sugar in the bowl of an electric mixer fitted with the paddle attachment on high speed, until light and fluffy. On medium speed, add the eggs, 2 at a time, then add the sour cream and vanilla. Scrape down the sides and stir until smooth. Sift together the flour, cornstarch, salt, and baking soda in a bowl. With the mixer on low speed, add the flour mixture to the butter mixture until just combined. Fill the cupcake liners to the top (don't do this!!!) with batter. Bake in the center of the oven for 20 to 30 minutes, until a toothpick comes out clean. Cool to room temperature.
For the frosting:
3 sticks unsalted butter, softened
16 ounces cream cheese, softened
3/4 lb powdered sugar
1 1/4 teaspoons vanilla
Combine all ingredients in the bowl of an electric mixer and beat just until smooth.