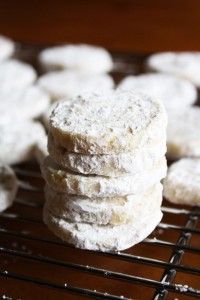 When I was in college, I got to spend a few months one summer studying Marine Biology in Monterey. Our classroom and lab were on the campus of Hopkins Marine Station, which is right next door to the Monterey Bay Aquarium and a short walk from the wonders of Cannery Row. It is also down the street from a Nob Hill grocery store, where I used to walk on our lunch breaks and buy a sandwich and a box of lime meltaways. The beautiful central coast of California didn't help me fall in love with any boys that summer (bummer!), but I've been in love with these tangy shortbread cookies ever since!

from Martha Stewart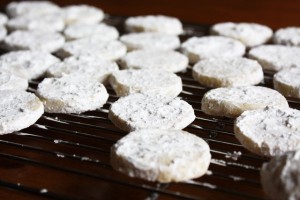 12 Tablespoons unsalted butter, softened
1 cup powdered sugar, divided
zest of 2 limes
2 Tablespoons freshly-squeezed lime juice
1 Tablespoon vanilla
1 3/4 cups plus 2 Tablespoons flour
2 Tablespoons cornstarch
1/4 teaspoon kosher salt
In the bowl of a stand mixer, combine butter and 1/3 cup powdered sugar until fluffy. Add zest, lime juice, and vanilla; beat until combined. In a medium bowl, combine flour, cornstarch, and salt. Add flour mixture to butter and sugar, and beat just until dough comes together. Divide dough into two equal portions. Roll each portion into a log about 1″ in diameter, roll in parchment paper, and refrigerate for 1 hour until firm. Preheat oven to 350° F. Line two cookie sheets with parchment paper. Remove cookie dough from fridge and unwrap. Using a sharp knife, cut each log into about 2 dozen 1/4″-thick slices. Lay slices on prepared cookie sheets. Bake for 15 minutes, rotating cookie sheets halfway through baking time. While cookies are baking, put remaining 2/3 cup powdered sugar in a gallon-sized ziplock bag. When cookies are finished, allow them to cool for 10-15 minutes before gently tossing in the bag with the powdered sugar until well-coated. Place on a tray or cooling rack and allow to cool completely before eating.