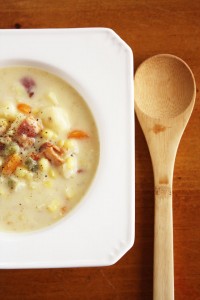 I may be biased, but my mom is pretty much the best cook around! I was so lucky to grow up in a home filled with amazing food, and my kids are lucky to have Grammy nearby, offering to feed them delicious treats at the drop of a hat. This is one of the dishes I remember most from my childhood, and one that my siblings and I still love as adults. Filled with veggies and sweet corn, it is so cozy and comforting, so homey and wholesome. Like all good comfort food, it reminds me of home!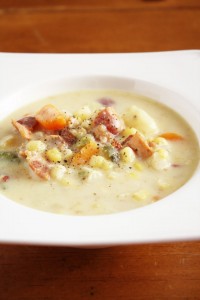 1 lb bacon, chopped
1 medium onion, diced
1/2 cup diced carrot
1/2 cup diced celery
4 medium baking potatoes, peeled and diced
milk
2 Tablespoons cornstarch
4 ears corn, kernals cut off (or 1 bag frozen corn)
salt and pepper
In a heavy-bottomed pot or dutch oven, brown bacon over medium heat until crispy. Using a slotted spoon, remove bacon and let drain on a paper towel-lined plate. Pour off all but 1 Tablespoon bacon grease. Add onion, carrot, and celery to pot and saute until veggies are tender. Add potatoes and toss to coat with bacon drippings. Add enough milk to completely cover the potatoes. Simmer until potatoes are tender. Mix cornstarch with 1 more cup milk and add to pot. Simmer until thickened, 1-2 minutes. If you want the chowder thicker, mix another Tablespoon of cornstarch with a few Tablespoons of milk and add it to the pot. Add fresh corn and bacon and heat through. Season to taste and serve hot!