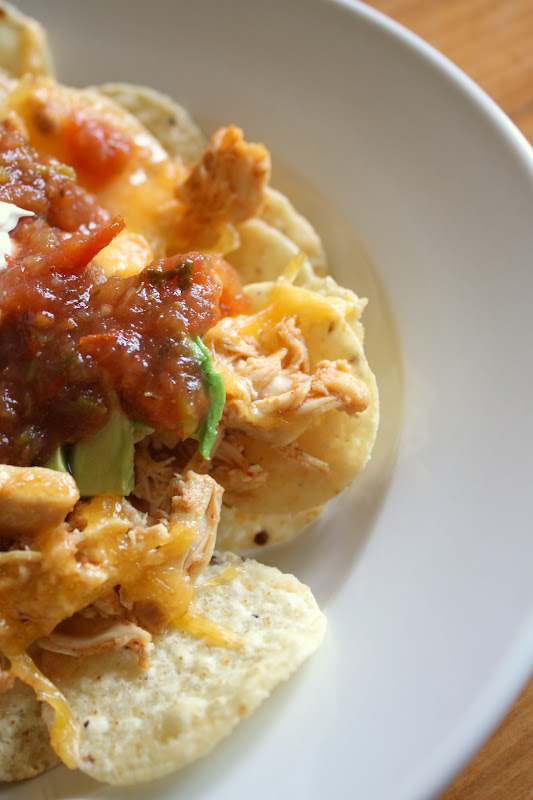 I'm about to change your life. Twice. I'm not kidding; these two recipes (more like ideas) have made a huge difference in our kitchen. The first, Mexican Crockpot Chicken, was included in a family reunion cookbook my aunt made a few years ago. My cousin-in-law, April, submitted it, and everyone in my family has been a huge fan ever since. It really is perfect for everything: nachos, tacos, quesadillas, enchiladas, burritos–basically any mexican dish. I always make a ton, use it for at least two dinners and some quick lunches during the week, and freeze any leftovers. The second recipe, Oven Nachos, was introduced to me and my little ones at lunch club a few months ago. Two friends and I decided to get together once a week with all of our kids for a casual, easy potluck. When it was her turn to host, Annie (baby shower Annie) made nachos in the oven, and I was like, "Say wha?!" I guess it hadn't ever occured to me to make nachos in the oven for a crowd. Our family has had Oven Nachos a few times since, and they are always a hit. Enjoy!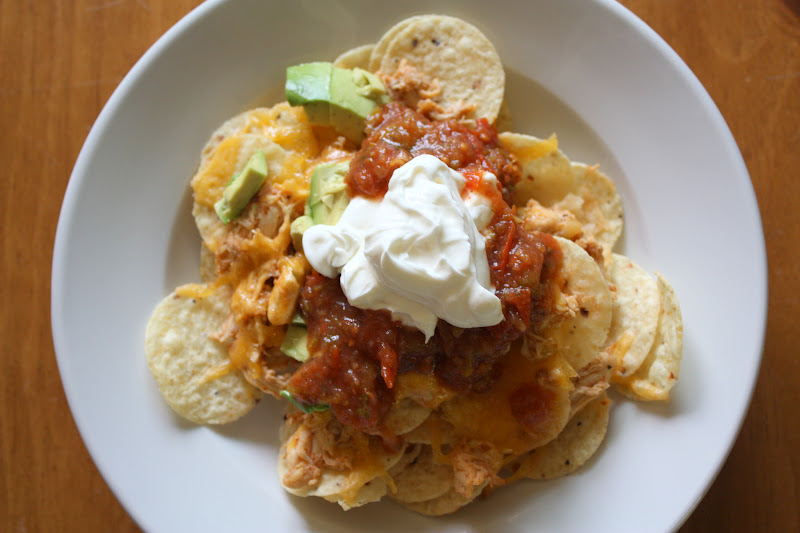 OVEN NACHOS WITH MEXICAN CROCKPOT CHICKEN
Ingredients
for the chicken
3 lbs chicken tenders (or equivalent of boneless, skinless chicken breasts, or even a 4 to 5-lb whole chicken, cut up)
1 pint salsa (store-bought, homemade, they're all good)
1.25 oz packet taco seasoning
for the nachos
tortilla chips
Mexican Crockpot Chicken
shredded cheese (cheddar, monterey jack, colby, mexican blend, etc.)
sour cream
salsa
diced avocado
chopped tomatoes
shredded lettuce
any other toppings you like on nachos!
Instructions
To make the chicken, place chicken in a crockpot, and cover with salsa and taco seasoning. Cover and cook on low for 4-6 hours. If you are using frozen chicken tenders, you can either thaw them first or increase the cooking time. Remove chicken from sauce, place on a cutting board, plate, or in a big baking dish, and shred using two forks. Put shredded chicken in a bowl and spoon sauce over chicken until chicken is moist and well-coated, but not swimming in sauce.
To make the nachos, preheat the oven to 350°F. Cover a cookie sheet with tortilla chips. Spread chicken evenly over the chips and top with shredded cheese. Bake in oven for 10 minutes until cheese is melted and chicken is heated through. Remove from oven, dish up individual servings, and top with desired toppings. And then go back for seconds, because you know you want to!
SaveSave