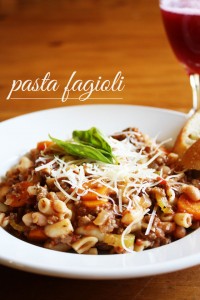 I don't know if everyone feels this way (I'm guessing that most people do), but I'm a sucker for comfort food. Give me something warm, savory, and cheesy, and I'm a happy girl. And I'm a sucker for soups and stews. And I'm a sucker for Italian food. So for me, pasta fagioli is basically perfection in a bowl! It combines so many things I love in one big pot of rich, tangy, tomatoey goodness.
from my mom
Make sure that you only cook the pasta until it is al dente. The noodles will continue to absorb liquid and soften as the soup sits, so you don't want them to start out too soft. And yes, this makes delicious leftovers. I actually think it's even better the next day!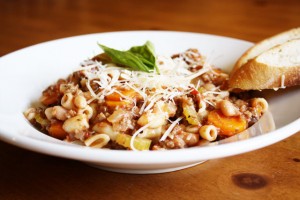 1 lb ground beef
1 large carrot, peeled and thinly sliced
2 stalks celery, thinly sliced
2 1-lb cans crushed tomatoes
parmesan cheese for topping
In a large pot or dutch oven, brown and crumble ground beef over medium heat. When cooked through, pour it onto a plate covered with paper towels and allow meat to drain. Meanwhile, add olive oil to pan and saute onion, carrots, and celery until onions are translucent, about 5 minutes. Add minced garlic and cook 1 minute more. Add tomatoes, beef broth, water, basil and oregano and bring to a simmer. Add beans, macaroni, and reserved ground beef, and cook just until pasta is al dente. Serve topped with shredded parmesan cheese.