So you might remember that I participate in a few online baking groups, but looking around this blog, you'd never know it! The sad thing is I very often participate in the monthly/weekly/bi-weekly challenges. I even take pictures of my results. I just get busy and forget to post them. Such was the case in October for not one, but two of my favorite groups: The Cake Slice Bakers and the Daring Bakers. So here is a quick summary of both results, along with a half-hearted pledge to do better (what can I say, I know my own limits).
The Cake Slice Bakers, October 2010 challenge brought us a new cookbook and a delightful recipe. Our new book,
Cake Keeper Cakes
by Lauren Chattman
, is really cute and truly stuffed to the gills with cake recipes. I have already made a couple of cakes from it in the month I've had it, and have plans to make many more, hopefully one particularly delightful-looking cake tomorrow. This month's recipe was Pumpkin-Chocolate Chip Pound Cake, and it was delicious. It was rich and smooth, as a good pound cake should be. I had a problem with the baking time not being quite enough, but as far as my experience goes, that's nothing new when it comes to pound cake. Scroll down for the recipe.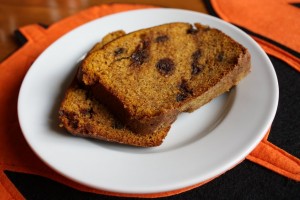 The Daring Bakers Challenge for October was a fun, easy one that I wasn't about to skip, despite a busy month. We were challenged to make donuts. That's it! Just donuts. However we wanted, whatever flavor, completely up to us. I chose to try a recipe I remembered my mom making over 20 years ago when I was little, applesauce donuts. They were every bit as good as I remembered. I made half a batch, which made 2 dozen donut holes, and we ate all but one of them. Really, I don't know why we stopped at that point! They were subtly sweet and slightly spicy, and then we covered them in cinnamon sugar and made them very sweet and very spicy! I think they would be equally good dredged in powdered sugar, and I was actually sad when it occurred to me that I hadn't saved any to test that theory on. Their strange, flying saucer shape can be explained by the fact that we had almost no oil in the house and had to fry them in about an inch of extra virgin olive oil. Scroll down for the recipe.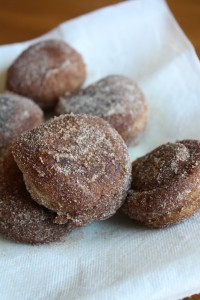 Pumpkin-Chocolate Chip Pound Cake
from Cake Keeper Cakes by Lauren Chattman
1 3/4 cups flour
1 teaspoon baking soda
1 teaspoon baking powder
1 teaspoon ground cinnamon
1/2 teaspoon salt
1/4 teaspoon ground cloves
pinch nutmeg
1/2 cup unsalted butter, softened
1 1/4 cups sugar
3 eggs
1 cup pumpkin puree
1 teaspoon vanilla
1/3 cup milk
1 cup mini chocolate chips
1 cup chopped walnuts, which I left out
Preheat oven to 350 degrees. Spray a 9×5″ loaf pan with nonstick spray. Combine flour, baking soda, baking powder, cinnamon, salt, cloves, and nutmeg in a medium bowl. In a large bowl, cream butter and sugar until fluffy. Add the eggs, mixing between each addition. Stir in pumpkin, vanilla, and milk; mix until combined. Slowly add the flour mixture; stir to combine. Fold in the chocolate chips and walnuts. Scrape batter into prepared pan and bake until firm to the touch and until a toothpick inserted in the center comes out clean, 55 minutes to 1 hour. Let cool 5 minutes before removing from pan. Cook completely before slicing.
Applesauce Donuts
from the May 1984 issue of Family Circle
makes 4 dozen donut-hole-sized donuts
oil for frying
2 1/4 cups flour
1 1/2 teaspoons baking powder
1/2 teaspoon baking soda
1/2 teaspoon cinnamon
1/2 teaspoon nutmeg
1/4 teaspoon ground cloves
1/4 teaspoon salt
1/2 cup granulates sugar
1/4 cup packed brown sugar
2 eggs
2 Tablespoons oil
1/4 cup milk
1 cup unsweetened applesauce
1/2 teaspoon vanilla
Fill a large heavy saucepan with 3 inches of vegetable oil. Heat to 360 degrees. Combine flour, baking powder, baking soda, cinnamon, nutmeg, cloves, and salt. In a large bowl, beat sugars and eggs until fluffy. Beat in 2 Tablespoons oil. Stir in half of the flour mixture, beating until just incorporated. Stir in milk. Add the remaining flour mixture. Stir in applesauce and vanilla; mix until well-combined. Carefully drop batter by the Tablespoon into the hot oil, 3 or 4 at a time. Fry for about 3 minutes, turning once with tongs half-way through. Remove to a paper towel to drain and cool. Toss with cinnamon sugar or powdered sugar.