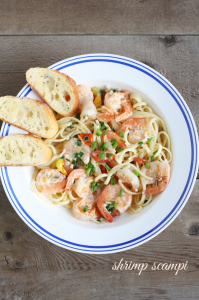 It occurs to me that we're well into August, and I haven't told you what August's theme is. I originally thought of "Garden Fresh," and then I changed my mind and wanted to go with "Farm Fresh." But then I wanted to fit this Shrimp Scampi recipe in ASAP because it's absolutely delicious, so we're just going with "Fresh." Every recipe in August will be full of fresh ingredients and fresh flavors!
My husband is a really good guy. I had a sobering experience over the weekend that made me appreciate him even more than I already do, because not all guys are good guys. Isn't that a sad truth? Anyway, on top of being a wonderful father and husband, he's a top-notch cook, which makes us all the luckier. This scampi is one of his specialties. I've never had anything else like it. It's the dish he trots out for special occasions, or when we have people over for dinner that we want to impress, and it does the job spectacularly, from the first bite on. A delicate cream sauce, lightly sweetened with tangy pineapple juice, and bright cherry tomatoes and springy chives make this scampi recipe unique and flavorful, and totally irresistible!
I'm going to let you in on a little secret: I don't like seafood. If you're like me, you can still make this amazing dish; just use chopped chicken breast in place of the shrimp.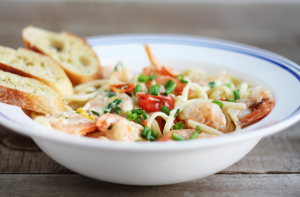 for the scampi:
4 Tablespoons butter
2 heaping Tablespoons freshly pressed garlic
1/3 cup white wine
1/2 cup pineapple juice
1/2 cup cream
a dash of cayenne pepper
1/3 lb fresh shrimp, size 25-30, tails on, deveined (or 1 large boneless, skinless chicken breast, chopped)
12 cherry tomatoes, quartered
2 Tablespoons chives
salt and pepper
8 oz linguini, cooked
for the garlic toasts:
1 baguette, cut into 1/2″ slices on an angle
2 Tablespoons butter, melted
garlic powder and italian seasoning (We actually use Penzey's Sandwich Sprinkle, which used to be called Crouton Seasoning, but garlic powder + italian seasoning will work too.)
Melt butter in a large skillet over medium heat. Add pressed garlic and saute until golden. Add white wine and stir to deglaze the pan. Add pineapple juice, cream, and cayenne pepper, and simmer until slightly thickened, about 3-5 minutes. Add shrimp (or chicken, if you choose that option), and saute until cooked on one side. Flip shrimp, add cherry tomatoes and chives, and saute until shrimp is cooked through. Season with salt and pepper to taste. Serve over cooked linguini, accompanied by garlic toasts. Serves 2.
For the garlic toasts, preheat the oven to 350°F. Place baguette slices on a baking sheet in a single layer. Brush slices with melted butter, and sprinkle with garlic powder and italian seasoning. Bake until lightly toasted, about 10 minutes. Serve hot.