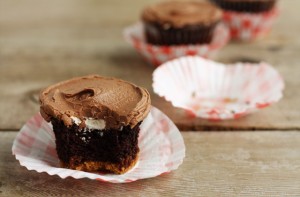 My little sister Emily is probably the biggest food fanatic in my family. Hard to believe, I know. Whenever she comes into town, one of the first things she wants to do is figure out what meals we're all getting together for, what the menu will be at each, and what restaurants we're going to go to when we head out for dinner. She always has a new, delicious recipe or two ready to share with us when she visits, and at Christmas last year, she introduced us to S'mores Cupcakes. They were so delicious! A buttery graham cracker layer topped by a rich, chocolate cupcake, with a gooey marshmallow center, and piles of fudgy frosting. The S'mores Cupcakes we made came from a box mix, but I knew that the idea could be done just as easily from scratch. And I was right! It probably only took 5 more minutes to make S'mores Cupcakes from scratch, and they were even more delicious than the ones we made at Christmas. If you're a fan of s'mores, you have to try these easy and delicious cupcakes. I guarantee that after the first bite, you'll want s'more. Ha!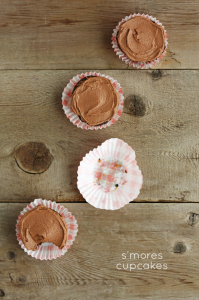 for the graham cracker and marshmallow layers:
1 1/3 cups finely ground graham cracker crumbs (about 1 1/2 packs graham crackers)
4 Tablespoon butter, melted
3/4 cup jarred marshmallow fluff
for the cake layer:
1 oz semisweet chocolate
1/2 cup dutch-processed cocoa
2/3 cup hot coffee
1/3 cup whole milk
1 1/3 cups flour
1 teaspoon baking soda
1/2 teaspoon salt
10 Tablespoons butter, softened
1 cup brown sugar
1/2 cup granulated sugar
3 eggs
1 teaspoon vanilla
for the frosting:
3 oz unsweetened chocolate, melted
3 cups powdered sugar
12 Tablespoons unsalted butter, softened
3 Tablespoons half-and-half
1 1/2 teaspoons vanilla extract
a pinch of salt
Preheat the oven to 325°F and line cupcake pans with 24 paper liners. In a medium bowl, combine graham cracker crumbs and melted butter. Divide mixture among the 24 cupcake papers and firmly press into the bottom. Put 1/2 Tablespoon of marshmallow fluff into each cup; set aside. In a small bowl, combine semisweet chocolate, cocoa, and hot coffee. Stir until chocolate is melted. Add milk, stir, and set aside. In a medium bowl, combine flour, baking soda, and salt; set aside. In the bowl of a stand mixer, beat butter, brown sugar, and granulated sugar until fluffy. Add eggs and vanilla and beat to combine. Add 1/3 of the flour mixture and mix on medium speed. Repeat with 1/2 of the chocolate mixture. Repeat until everything has been added. Scrape down the sides of the bowl with a spatula, and beat on high speed for 30 seconds to mix well. Pour cake batter on top of marshmallow fluff in prepared pans, filling each cupcake liner no more than 3/4 full. If you have batter left over, you can set it aside and make a small cake with it, or you can just eat it. There's no judging here! Bake cupcakes for 30-35 minutes until the top of the cupcakes spring back when lightly touched. If the marshmallow has risen to the top during baking, that's totally fine. Allow cupcakes to cool completely before frosting.
To make the frosting, combine all frosting ingredients in the bowl of a food processor, and pulse until well-mixed and smooth. Frost cooled cupcakes, and enjoy!