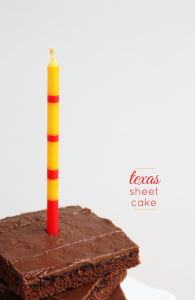 Every year, whether he likes it or not, I make my husband Texas Sheet Cake for his birthday. It's always a huge hit with everyone, and with one bite, you can see why. A layer of moist chocolate cake covered with a fudgy glaze, perfectly rich, with just the right amount of decadence. Maybe I should start making it for unbirthdays too!
slightly adapted from Birthday Cakes by Kathryn Kleinman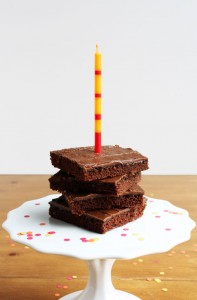 for the cake:
1/3 cup unsweetened cocoa powder (good old Hershey's is perfect)
1 cup water
1 cup unsalted butter
2 cups flour
2 cups sugar
1 teaspoon baking soda
1/2 teaspoon salt
2 large eggs
1/2 cup sour cream
1 teaspoon vanilla
for the frosting:
6 Tablespoons unsalted butter
1/4 cup milk
3 Tablespoons unsweetened cocoa powder
3 cups powdered sugar
1 teaspoon vanilla
To make the cake, start by preheating the oven to 350°F. Grease a 12×17″ pan (aka, a cookie sheet) with nonstick cooking spray. Combine cocoa powder and water in a small saucepan. Bring to a boil, add butter, and stir until butter is melted; remove from heat. In a large bowl, combine flour, sugar, baking soda, and salt. Add cocoa and water mixture, and stir until smooth. Add eggs, sour cream, and vanilla, beating until smooth. Spread in the prepared pan and bake for 20-25 minutes, until the top springs back with gently pushed, or until a toothpick inserted in the center comes out clean. A few minutes before the cake is done baking, prepare the frosting.
In a medium saucepan, combine butter, milk, and cocoa powder. Bring to a boil over medium heat, stirring occasionally. When butter has melted, remove from heat. Beat in powdered sugar and vanilla. Spread frosting gently over the cake as soon as it comes out of the oven. Cool completely before serving.