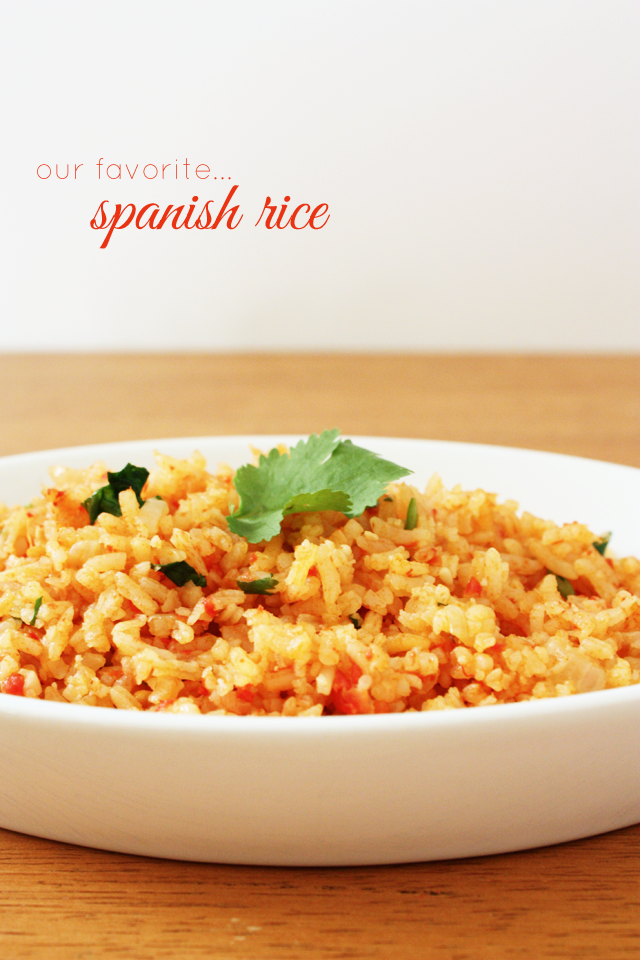 Isn't it strange how Mexican restaurants all over the country consistently make delicious spanish rice, and yet we lay-folk who try to make it at home can't ever seem to get it right?
Over the years, I've tried lots of different recipes for this popular side dish–rice with salsa stirred in, rice with cilantro and green enchilada sauce stirred in, rice from a rice-a-roni box–but they always turn out really wet and gloopy, and not at all like restaurant rice. I'm usually the only one who eats these sticky concoctions, and that's mostly out of a sense of duty to myself.
But hallelujah the search is over! It's all blue skies and sunshine and dry, fluffy rice speckled with bits of tomato and cilantro from here on out because I have found a winner!
The secret's in the starch–or rather, the lack of starch. By rinsing the rice in cold water, you wash away all of that sticky starch, and you get nice fluffy rice just like the restaurants make.
I've made this recipe lots of times since I discovered it at the beginning of the year, and it's a hit every time. I made it for our big family Cinco de Mayo dinner a few weekends ago, and the rice was the star of the show. I would have cried tears of joy if I hadn't been so busy helping myself to another serving of rice.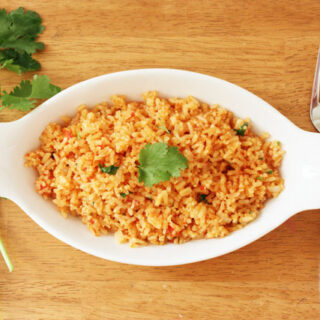 Spanish Rice
Our very favorite, no-fail Spanish Rice recipe! Adapted from a recipe on Food.com.
Ingredients
2 Tablespoons canned chopped green chilies
1 can diced tomatoes
2 cups long-grain white rice
1/3 cup oil
1/2 large yellow onion, finely chopped
2 Tablespoons minced garlic
2 cups chicken broth
1 Tablespoon tomato paste
1/2 teaspoon salt
1/2 cup chopped cilantro
Instructions
Preheat the oven to 350°F.
Combine chilies and diced tomatoes (plus liquid) in the bowl of a food processor, and pulse until mostly smooth; set aside.
Put the rice in a strainer and rinse with cold water until the water runs clear. Shake as much water out as possible.
Pour oil into the bottom of a dutch oven over medium heat. Add rice and saute until just beginning to turn golden, about 10 minutes. Add onions and garlic, and cook until onions are tranlucent. Add chicken broth, tomato paste, salt, and reserved tomato/chili mixture and stir to combine. Bring to a boil, cover, remove from heat, and place in the oven.
Bake 15 minutes. Remove from oven, stir, replace cover, and bake another 15-20 minutes, until the rice is nice, fluffy, and dry. Stir in cilantro and cover until ready to serve.