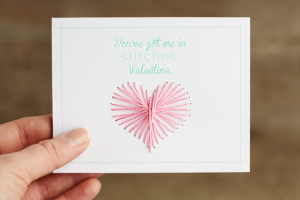 Since I'm a big fan of any and all holidays, I of course love Valentine's Day! Instead of focusing on just one special person, I've always thought of it more as a day of appreciation for all of the people I love. So even when I was boyfriend-less in junior high and high school, I still thought Valentine's Day was fun and happy because of all of my friends and family. And, of course, because of all that candy!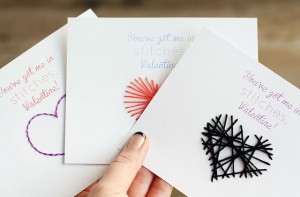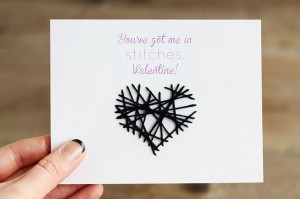 I designed these simple and cute printable valentines that you can download, print, embellish, and give to your Valentines next week, whether that includes friends, family members, classmates, or a special someone.
hefty card stock
printer
paper cutter
embroidery floss
a good, strong needle
1. Click on a link below to download a file. I created six different colorways for you: Coral, Mustard, Grass, Aqua, Orchid (color of the year!), and Black. The files are PDFs.
2. After downloading the file, open it and print. I printed four copies per page, but you can make your valentines as big or as small as you like using the print menu. Print as many as you want on heavy card stock.
3. Use the paper cutter to cut valentines apart and trim as necessary.
4. Before I started stitching, I took my needle and poked through each grey dot on the heart outline, just to make the sewing go faster.

5. Each of the designs I tried took quite a bit of embroidery floss. I'd cut a length of about 1 yard. Tie a double knot in one end, and thread the other end onto your needle.
6. Start sewing! Begin on the back of the card to hide your knot. You can do stitches around the outside of the heart, random stitches back and forth across the heart, or stitches that criss-cross regularly from one side to the other. Or you can do any other design you can think of!
7. When you are finished stitching, and you've made sure your last stitch ends on the back side of the valentine, tie another double knot and cut off any excess floss. Try to tie the knot as close to the card as possible so that your stitches don't get saggy and baggy on the front of the card.
Now you can put all of your valentines in envelopes and deliver them to your loved ones! Happy Valentine's Day!