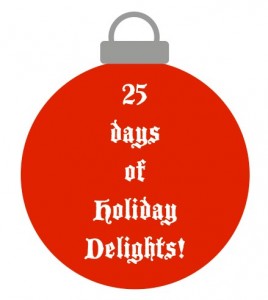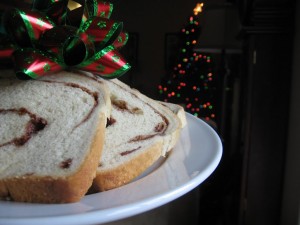 This is a Christmas of firsts for our little family. It is the first Christmas we will be spending in our own house. It is the first Christmas Eve dinner I will be hosting. It is the first Christmas where we won't go visit my family at all at any point. *sniff* The upside to all of this is that we have the opportunity to start cultivating a few new family traditions, and one of those is breakfast.
My husband's family always has what they call a "farmer's breakfast" on Christmas morning. Scrambled eggs, biscuits, homemade sausage gravy, etc. That sounds tasty to me, but I don't really want to make all of that on Christmas morning, and I certainly don't want to be stuck cleaning it up when there is so much merry-making going on! My family usually has sticky buns from a neighbor and a delicious egg, ham, and green onion casserole that my mom makes. That sounds tasty too, but PC-ness dictates that we choose something new and completely unassociated with either family. So my husband and I have chosen Judy's French Toast Casserole, and we're actually totally excited about it! It is basically bread pudding disguised as breakfast, complete with tart apples, cinnamon swirls, and a luscious butterscotch sauce. It isn't made yet, so sorry about the lack of photos, but I couldn't in good conscience NOT post a recipe when I was this close to the end of my 25-day project! Merry Christmas!
Judy's French Toast Casserole
from my husband's Aunt Judy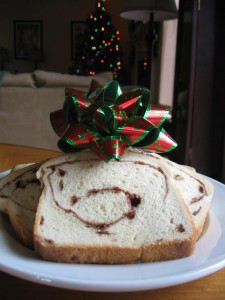 2 teaspoons corn syrup
1/2 cup butter
1 cup packed brown sugar
3 granny smith apples, peel, cored and thinly sliced
cinnamon swirl bread
8-10 eggs
2 cups milk
1 teaspoon vanilla
1/4 teaspoon salt
Combine corn syrup, butter, and brown sugar in a small saucepan, and simmer until syrupy, about 3-5 minutes. Pour sauce in the bottom of a 9×13 pan. Place apple slices on top of sauce. Place 2 layers of cinnamon swirl bread on top of apples. Beat remaining ingredients together and pour on top of bread. Cover and refrigerate overnight. Uncover and bake at 350 degrees for 45 minutes.