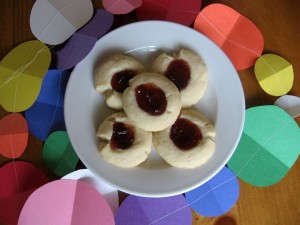 Happy New Year! Where does the time go?
For Christmas, my sweet friend Marcelle gave me a cute reusable shopping bag full of gourmet goodies. Among them was a jar of delicious cherry preserves. For whatever reason, when I saw them, I immediately thought they would be good on thumbprint cookies–even though I've never eaten or made thumbprint cookies. It was surprisingly hard to find a recipe for thumprints; most of my cookbooks simply didn't have one, and the ones that did all called for nuts, which I didn't want. I finally found a recipe in Family Fun magazine that sounded like what I wanted, and I don't plan on looking any further. The cookies turned out perfect. They were buttery, tender, and just a little crisp, like a good shortbread, and the jam on top turned out sticky and sweet, like candy. I'm only sorry we didn't discover them sooner!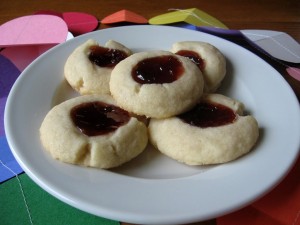 For the recipe, click HERE.