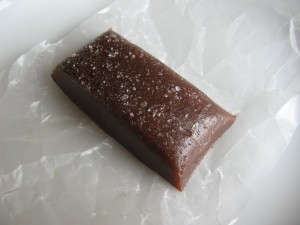 Out of all the confections in the world, caramels are probably my favorite. I like chocolate, but I don't really consider myself a chocoholic. And I love fruity things–cakes, pies, candies–but even they don't top the list. What I love more then any other sweet is caramel. In a box of chocolates, I always go for the chocolate-covered caramels first (they are easy to spot, usually being square or rectangular with fairly sharp corners). In fact, if I get to a box of chocolates too late and the caramels are already gone, I usually don't have any.
I was thrilled that this week's Sweet Melissa Sundays recipe from The Sweet Melissa Baking Book by Melissa Murphy was chocolate creme caramels. Oh my! They were so good. Since they start out blazing hot and take hours to cool and set up, I spent the interim scraping every last bit of chocolate caramel out of the pot and eating it with a wooden spoon! Since they didn't call for too much salt, I decided to sprinkle a little pink Himalayan sea salt on mine. Heaven!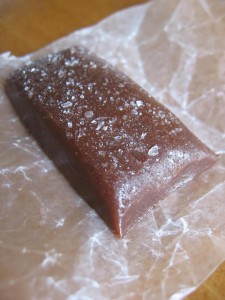 Thanks to this week's hostess, Jeanette, for choosing this amazing recipe. I will definitely make these again, maybe next Christmas to give to friends. Or maybe I'll eat them all by myself! You can find the recipe on Jeanette's blog, The Whimsical Cupcake.