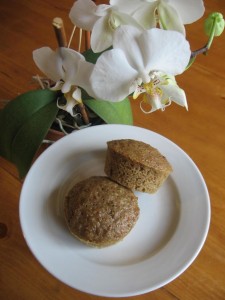 I'm curious about how many people actually think bran muffins sound good. I know when I'm trying to eat healthy and we're on vacation and there aren't any other healthy options, a bran muffin will do, but they don't even cross my mind when I think of delicious breakfasts. If I had to think of a word to describe most bran muffins I've had, something like "sawdust" or "cardboard" would probably come closest. If you feel the same, get ready to have your world rocked! These bran muffins are good! Not just if-there-isn't-anything-else-I'll-eat-it good, but I-look-forward-to-eating-these good! The massive amounts of buttermilk in the batter keep the muffins very moist, in addition to giving them a super pleasant tanginess. And if you substitute applesauce for some of the oil, they have a sweet, slightly fruity goodness.
If the enormous quantities of ingredients is freaking you out, let me assure that this makes more than a dozen muffins. It makes more than two dozen muffins. In fact, it makes a whopping 6 or 7 dozen muffins! What? You can't eat that many muffins in one sitting?! Another bonus: you can either make all of the muffins and freeze them, or you can actually just keep the batter in the fridge for several weeks! I know that sounds insane, but it is the truth. I've done both. The first time I made these, I made them all and froze them. Then, before I went to bed each night, I'd get a few out and leave them on the counter to thaw. Fresh muffins every morning! I've also made them by the dozen, keeping the leftover batter in a big, air-tight container in the back of the fridge. When we run out of muffins, I just scoop another dozen into the muffin tin and bake them. Again, fresh muffins every morning! Perfect for these chilly winter days.
Buttermilk Bran Muffins
makes many dozens!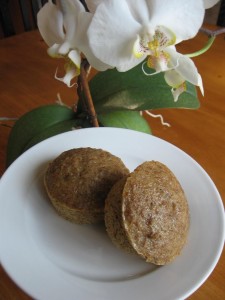 6 cups All-Bran cereal
2 cups boiling water
5 teaspoons baking soda
4 cups buttermilk
1 cup oil or applesauce (I did 1/2 cup of each)
4 eggs
3 cups sugar
1 Tablespoon salt
5 cups flour (I used a mixture of white and wheat flours)
Pour the bran cereal into a large bowl. Combine baking soda and boiling water, pour over cereal, and set aside. In a different large bowl, combine buttermilk, oil, applesauce, eggs, sugar, and salt. Add cereal mixture and flour, stirring until combined. Spoon batter into greased muffin tins and bake at 350 degrees for 18-22 minutes.