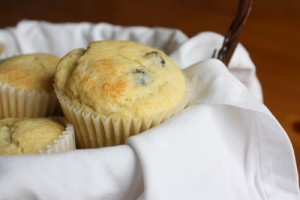 For whatever reason, my children decided they really, really wanted blueberry muffins this week. While I actually like the store-bought blueberry muffin mix, complete with artificial blueberry flavoring and teeny, tiny canned blueberries, I also like making things from scratch. And luckily, I had one last bag of blueberries in my freezer from our summer picking excursion and a delicious base recipe to work with.
The base recipe for the muffins comes from an old Pillsbury cookbook that either I or one of my siblings got for Christmas several decades ago. It has been a family favorite for many, many years now! My favorite part of these muffins is the golden, crispy top, followed closely by the just-sweet-enough, wholesome flavor. They are the perfect accompaniment to soups, salads, and the ever-popular breakfast for dinner. And they can easily be jazzed up any number of ways. This time, I stirred frozen blueberries into the dry ingredients, but any fruit would be delicious, as would a cinnamon streusel topping or citrus zest stirred into the batter. Go crazy!
adapted from a really, really old Pillsbury recipe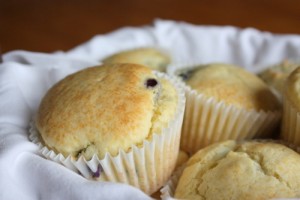 2 cups flour
1/2 cup sugar
3 teaspoons baking powder
1/2 teaspoon salt
1 cup blueberries, fresh or frozen
3/4 milk
1/3 cup oil
1 egg, beaten
Preheat the oven to 400 degrees. Grease or line 12 muffin cups. In a medium-sized bowl, combine all dry ingredients. Add blueberries and gently toss. In a small bowl or measuring cup, combine milk, oil, and egg. Whisk well. Add wet ingredients to the dry ingredients and stir gently until just combined. Divide batter evenly among muffin cups. Bake 18-22 minutes.