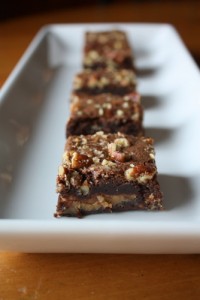 I am a huge collector of recipes. In college, I started keeping a binder with labeled dividers for the recipes I tore out of magazines, found on the internet, or got from family and friends. That oh-so-organized system has since devolved to gallon-sized ziplocks full of scraps of paper with recipes jotted down or torn from newspapers and magazines (on a good day) and random stacks of recipes shoved on top of the cookbooks on my kitchen bookshelf (all of the other days). One of the problems with this system–for there are many–is that often, once the recipe is out of sight, it is out of mind. It sits in its baggie or pile until…pretty much forever. Occasionally, a lucky recipe will make its way out of the stacks and bags and actually be used. This recipe for Dulce de Leche Brownies is one of those lucky few. It was printed on the inside of a box of butter that I must have used for something at my parents' house over the holidays. From there, it made its way into the back pocket of a pair of jeans, then onto my nightstand one laundry day in January, then finally, last week, into the kitchen on the day I hosted our annual bookclub planning meeting.
I'm really glad this recipe stuck with me through our long journey together. The brownie layers are perfectly moist and chocolatey without being the consistency of straight-up fudge (if I want fudge, I'll make fudge, not brownies) and the Dulce de Leche layer lends each delicious bite a rich, caramel flavor. Where is this recipe now, you ask? Well, it's back in a pile on top of the cookbooks. But it's also written below, for you and all future generations to enjoy. And so I don't have to dig through the recipe pile next time I want to make them. 🙂
Dulce de Leche Brownies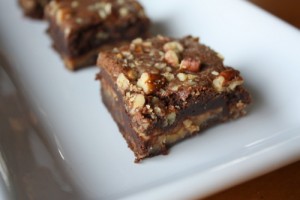 for the Dulce de Leche layer:
14-oz can sweetened condensed milk
1 Tablespoon corn syrup
2 Tablespoons butter
Combine the sweetened condensed milk and corn syrup in a large microwave-safe bowl (at least 2 1/2 quarts, no cheating!). Microwave on 50% power for 2 minutes, then remove from microwave and stir. Repeat, microwaving and stirring, until mixture has thickened and turned a lovely golden color. This took me 12 minutes of total microwaving. Whisk in butter and set aside.
for the brownies:
1 cup butter, softened
1 1/4 cups sugar
1/2 cup brown sugar
4 eggs
1 1/2 teaspoons vanilla
1 cup flour
3/4 cup unsweetened cocoa powder
1/4 teaspoon salt
1/2 cup chopped pecans
Preheat oven to 325 degrees and grease a 9×13″ baking dish. Cream butter and both sugars until fluffy. Add eggs and vanilla and beat. In a small bowl, combine flour, cocoa powder, and salt. Add dry ingredients to butter mixture; mix until well blended. Spread half of the brownie mixture evenly in the bottom of the prepared pan. Drop spoonfuls of Dulce de Leche onto the bottom brownie layer and spread evenly (as best you can). Top with remaining brownie mixture and sprinkle with chopped pecans. Bake 35 to 40 minutes until brownies no longer look wet in the middle. Cool completely and cut into squares (because they are rich, I cut the pan into about 36 servings).