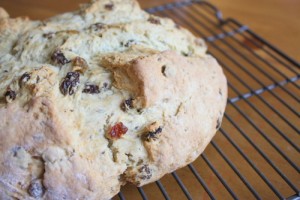 I was so excited to jump back into Sweet Melissa Sundays this week with such a delicious and holiday-appropriate recipe! I love St. Patty's Day. I know it is one of the more casual holidays in America, but I think that's what makes it so fun. Other than wearing green and eating Irish food (or green food!), you can pretty much make up your own traditions. Anyway, I especially love the food associated with St. Patty's Day, and Melissa Murphy's recipe for Irish Soda Bread is going to be making an appearance at our St. Patrick's Day table for many years to come!
The Irish Soda Bread from The Sweet Melissa Baking Book is basically a giant, tender scone or biscuit filled with plump, juicy raisins and savory carraway seeds. We ate ours warm and slathered in salty butter, and it was amazing! It was the perfect accompaniment to the delicious corned beef and cabbage we were enjoying, and will definitely become part of our St. Patty's Day traditions!
Many, many thanks to Julie of A Little Bit of Everything for choosing this fantastic and timely recipe! If you'd like to see how the other Sweet Melissa Bakers fared with their Irish Soda Bread, click HERE, and if you'd like the recipe, you can find it HERE on Julie's blog!