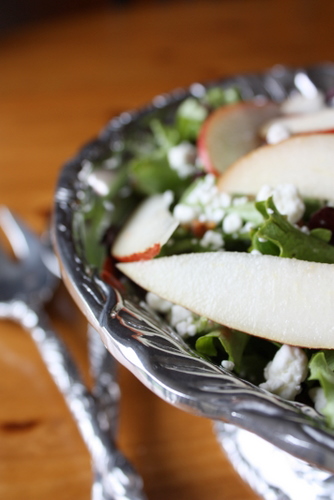 Aside from restaurant food and a few specific friends and family members' cooking, I pretty much prefer my own cooking to mystery food made by other people. It isn't a pride thing at all; it's a comfort thing. For example, let's say they're having a chili cook-off at church, and my pot of chili is one of 2 or 3 dozen entries. I can guarantee that my chili is the only one I'm going to try, mostly because I know exactly what went into it and that I already think it tastes good, and I'm not exactly adventurous when it comes to food.
The one glaring exception to this made-by-me food preference is salad. I love salad–as long as I didn't make it. I usually find salads that I've made gross. I can set out all of the ingredients for salad and have my husband put it together and it tastes delicious. If I make it, it's no good. Crazy how that works! Last Fall, my friend Tannya, who is an amazing cook, brought the most delicious salad to a baby shower for our mutual friend Annie. I have no clue how she made it, but it was on my mind the other day while I was grocery shopping, so I bought the cheater's version of what I think went into the salad. It took about 1 minute to throw together and tasted fantastic, and yes, I made it! And you can too!
Easy Goat Cheese and Pear Salad
mixed greens
1 ripe pear, sliced very thin (I prefer Anjou pears because they are sweet and soft)
chopped, honey roasted pecans from the produce section (I would have gotten the glazed pecans that were in the produce section, but they were halves, and when you're already cheating, why not buy the pecans that are already chopped, ya know?)
goat cheese crumbles
white balsamic vinaigrette (we like Litehouse because it tastes good and only has one strange ingredient)
Combine the ingredients to make a salad. It's not rocket science!!