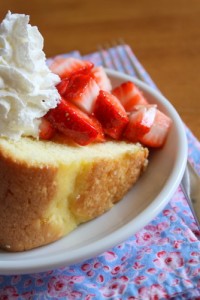 When I read the name of this cake, it conjured up images of a dense, heavy, tangy cake–which I didn't think sounded very good. But it was amazing in every way! The cream cheese in the batter didn't impart a cheesecakey flavor, but rather an incredible moistness. The fresh lemon zest and freshly-grated ginger gave it a wonderful, refreshing Spring flavor. And unlike a lot of pound cakes, this one was not only easy to make AND baked evenly, but it also had a tight, light crumb. We loved it with the season's fresh strawberries and whipped cream, but I also snuck a few slices plain and they were equally delicious. It is by far my favorite plain pound cake recipe ever. If you've been intimidated by pound cakes in the past, give this one a try; it is a breeze!
Cold-Oven Cream Cheese Pound Cake
from Cake Keeper Cakes by Lauren Chattman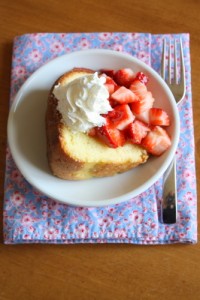 3 cups cake flour
1 1/2 teaspoons baking powder
1 teaspoon salt
1 cup unsalted butter, softened
8 oz cream cheese, softened
2 1/2 cups sugar
6 eggs, at room temp
1 Tablespoon vanilla
1 1/2 Tablespoons freshly grated ginger
1 Tablespoon freshly grated lemon zest
Adjust oven rack to lower-middle position. Butter and flour a 12-cup Bundt pan. Combine flour, baking powder, and salt in a medium bowl. Beat butter, cream cheese, and sugar in a large bowl until fluffy, about 3 minutes. Add eggs one at a time, mixing after each addition and scraping down sides of bowl as necessary. Beat in vanilla, ginger, and lemon zest. With the mixer on low speed, gradually add the flour. When all of the flour has been added, mix for 30 seconds on medium. Pour batter into prepared pan and place in cold oven. Turn oven to 325 and bake until cake is golden, 65 to 80 minutes. Check for doneness with long wooden skewer. Cool cake in pan for 15 minutes, then invert onto a cooling rack and cool completely before slicing.