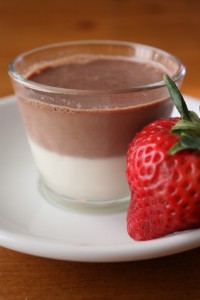 Did you forget that I'm in the Daring Bakers? Yeah? Me too. Luckily, I remembered in time to participate in this month's easy, delicious challenge. Our challenge this month was to make Panna Cotta, a super-simple, creamy italian custard, and Florentine Cookies, buttery, lacy oatmeal cookie sandwiches surrounding a yummy chocolate filling.
I think most people, even those of us who like to cook, cringe just a little when we hear the word "custard." Between making sure you don't scramble the eggs when adding them to the hot milk mixture and making sure you cook the mixture long enough that it will set up correctly, custard can be a very temperamental dessert. Well, Panna Cotta isn't like that at all; Panna Cotta is downright easy going! The recipe we were given to base our finished products on comes from Giada De Laurentiis, and it couldn't be simpler or more fool-proof. You sprinkle unflavored gelatin on some milk and let it sit for a few minutes, after which you heat it without letting it come to a boil. Add some heavy cream, and sugar and honey for sweetness, heat again…and that's it! Then you just pour it into your serving dishes and refrigerate it. There's no measuring the temperature with a candy thermometer or straining through a fine mesh sieve or anything!
I chose to make individual two-layer Black and White Panna Cottas for dinner club. With vanilla custard on the bottom and chocolate custard on top, they were a fantastic ending to our meal.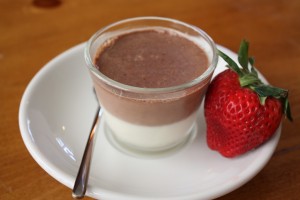 We were also challenged to make Florentine Cookies. I wasn't crazy about the finished product, but my husband, kids, and everyone at dinner club thought they were delicious and gobbled them all up. I have a bad habit of using more batter than I should when I make things, so my cookies turned out twice as big as they were supposed to, but I didn't hear any complaints!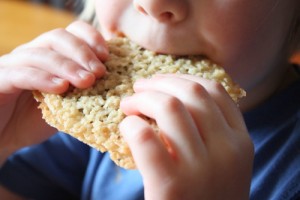 I'm very, very glad I remembered the I was a Daring Baker this month. Panna Cotta is an easy, impressive, delicious dessert that I will definitely make again and again. I've posted both the vanilla and chocolate panna cotta recipes below, and the recipe for the Florentine Cookies can be found HERE on the Nestle website.
**The February 2011 Daring Bakers' challenge was hosted by Mallory from A Sofa in the Kitchen. She chose to challenge everyone to make Panna Cotta from a Giada De Laurentiis recipe and Nestle Florentine Cookies.
Vanilla Panna Cotta
from Giada De Laurentiis
If want to make double layer panna cottas, allow the bottom layer to set up completely before adding the top layer. I let my vanilla layer set up overnight, but 6 hours should be plenty.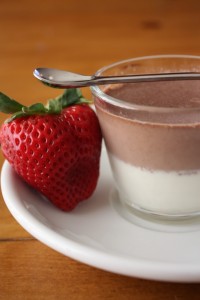 1 cup whole milk
1 Tablespoon (1 packet) unflavored gelatin powder
3 cups whipping cream
1/3 cup honey
1 Tablespoon sugar
a pinch of salt
Pour the milk into a cold saucepan and sprinkle the gelatin powder evenly over the top. Let sit for 5 minutes. Whisk milk mixture gently and cook over medium heat for about 5 minutes, until hot but not boiling. Add cream, honey, sugar, and salt. Continue cooking until sugar and honey have dissolved, about 5-7 minutes. Again, do not let the mixture boil. Remove from heat, cool slightly, and pour into glasses or ramekins. Refrigerate until set, 6 hours to overnight. Serve cold.
Chocolate Panna Cotta
adapted from Bon Appetit
1 cup whole milk
1 Tablespoon (1 packet) unflavored gelatin powder
2 cups whipping cream
1/2 cup sugar
3/4 cup chopped semisweet or bittersweet chocolate (I used semisweet and loved it)
1/2 teaspoon vanilla extract
Pour milk into a small bowl, sprinkle gelatin evenly over the top, and set aside for 2-5 minutes. Combine cream, sugar, and vanilla in a medium saucepan and bring to a low boil over medium heat. Add chopped chocolate and whisk until combined. Add milk mixture and whisk until gelatin is completely dissolved. Pour into glasses or ramekins and refrigerate until set, 8 hours to overnight. Serve cold.