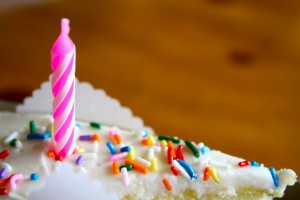 For my birthday a few weeks ago, I thought it would be fun to make a birthday cake and deliver slices to a few of my friends. Most of them were amused and made comments about how backwards it was, but no one turned me away, so I think it was a success!
I made little cake slice-shaped boxes to house each piece. They are sized to fit an 8″ cake cut into at least 12 pieces. You can download the template and find directions on how to put them together HERE.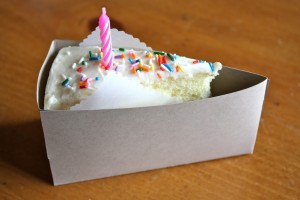 Vanilla Buttermilk Cake
Makes a 3-layer 8″ cake, but since I only wanted 2 layers, I used the extra batter to make 12 cupcakes.
From Sky High: Irresistible Triple-Layer Cakes by Alisa Huntsman and Peter Wynne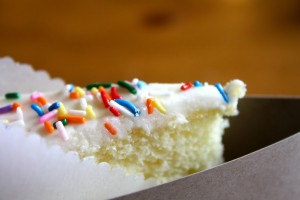 4 whole eggs
2 egg yolks
2 teaspoons vanilla
1 1/4 cups buttermilk
3 cups cake flour
2 cups sugar
4 1/2 teaspoons baking powder
1/2 teaspoon salt
2 sticks unsalted butter, at room temperature
Preheat the oven to 350 degrees. Butter or grease the bottoms of three 8″ cake pans, line with circles of parchment paper trimmed to fit, and grease the paper. In a medium bowl, combine eggs, egg yolks, vanilla, and 1/4 cup buttermilk and whisk to combine. In a large bowl, combine flour, sugar, baking powder, and salt, and stir to blend. Add butter and remaining buttermilk and mix on low speed until combined. Turn mixer speed up to medium and beat 2 minutes, until fluffy. Add egg mixture in three additions, scraping the sides of the bowl after each addition and beating only until incorporated. Divide batter evenly among prepared pans. Bake for 28 to 32 minutes, until a toothpick inserted in the center of each layer comes out clean. Let cool in pan 10 minutes before inverting onto a cooling rack. Remove parchment circles and allow to cool completely before frosting. I made vanilla frosting using the recipe on the back of the 1-lb box of C&H powdered sugar. It is always a winner. You'll need to double it to make enough frosting for a 3-layer cake.